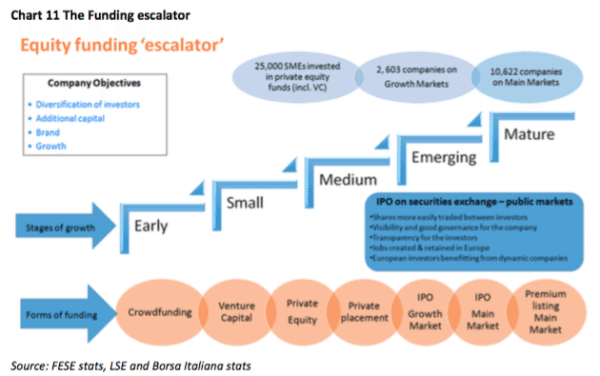 The European IPO report recently published a report that was delivered to the European Commission as part of the discussion on the Capital Markets Union. Three associations came together as part of this IPO task force to create the document advocating change in the EU.  These entities; EuropeanIssuers, EVCA and FESE, highlight a systemic challenge across the EU.  Equity funding for SME's remains constrained by policy and culture and must be addressed by both industry participants and elected officials.
Everyone acknowledges today that SME's are the engine of economic growth and job creation. The document quotes data that states; "while these [SME] companies represent a tiny fraction of total companies – ranging from a low of 1.2% in Germany to 1.7% in France – they generate about one third of private sector revenue and employ about a third of each country's workforce".  This is compelling information.
Many of the issues have been self-inflicted by overly aggressive politicians and regulators – especially in light of the recent financial crisis. The truism of unintended consequences of regulation seeking to protect economies and investors effectively damages them all.
Fostering access to capital for early stage companies is paramount for these innovative firms to grow thus benefiting local and national economies. The report (embedded below) defines key obstacles blocking efficient IPO markets and makes accompanying recommendations to address these barriers.
In brief, the report points to the many and diverse challenges that must be addressed:
Regulatory disincentives for small companies
Excessive cost for companies seeking to go public
Investors, specifically retail investors who have been disenfranchised from high growth opportunity
Existing market ecosystem favors big companies thus excluding smaller companies
Lack of an equity culture in the EU – in contrast to the US
Punitive tax policies
The authors recommend the following to ameliorate the issues:
Creation of a more flexible regulatory environment and reducing cost
Ease constraints on investors access to IPO markets, venture capital and private equity
Improve the market ecosystem for smaller companies
Improve education and create an equity culture
Create tax incentives for investments in IPOs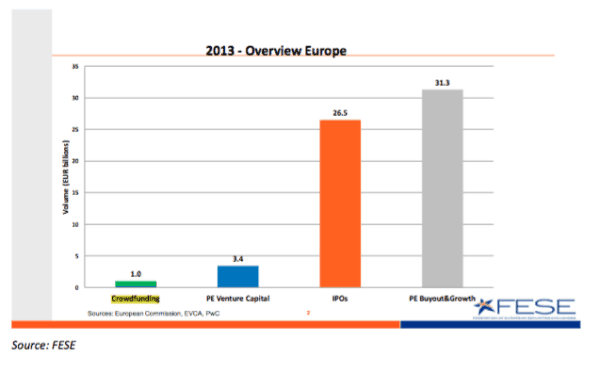 The document sees a simplified prospectus regime for smaller companies as an objective, this is something that could integrate with investment crowdfunding.  In fact crowdfunding is positioned as the first step in early stage funding.

IPOs in Europe (OECD) averaged 1170 per year from 1993 to 2000 raising USD 132.7 billion per year. During the period from 2001 to 2011 this number declined to 670 per year raising USD 69.9 billion each year.

The consequences are stark.  A policy regime that does not encourage equity investment in SMEs squanders its potential to create the next high growth firm.  Investors and companies will vote with their feet and continue to seek opportunity in nations and regions that engender opportunity and do not obstruct capital formation.  The need for Pan-European action is clear.

[scribd id=262576686 key=key-Vin9pmP4Fqfe7eKW5vTe mode=scroll]

Sponsored Links by DQ Promote