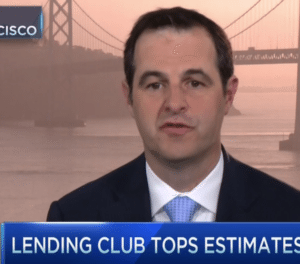 Lending Club CEO and founder Renaud Laplanche is making the rounds to talk up first quarter financial results which were released yesterday after market close. The peer to peer lending platform beat results yesterday and raised guidance for the rest of the year.
Laplanche, speaking on CNBC, said "we are growing fast but still very small [in comparison] to the banking industry".   He pointed out that credit card balances outstanding in the US is about $900 billion giving them plenty of headroom.  Most of their customers are refinancing high interest rate debt so this is currently their sweet spot.
Asked about  OnDeck results, which experienced an average APR decline, Laplanche clarified that OnDeck is a balance sheet lender – they, Lending Club, is marketplace, making their money by matching investors to borrowers.  So no "race to the bottom".
Lending Club's average interest rate for a 3 year term is about 11.5% – something that is pretty impressive for investors yet for those refinancing credit cards, which may be at 17% or more, looks pretty good too.
The shift to direct lending is still very much in its early years.  Eventually borrowing on line will become commonplace – and not the exception.
---
Sponsored Links by DQ Promote