Earlier this week, New York-based developer, Impeller Studios, took to crowdfunding giant Kickstarter to raise $250,000 for the team-based PvP multiplayer space shooter,  STARFIGHTER INC.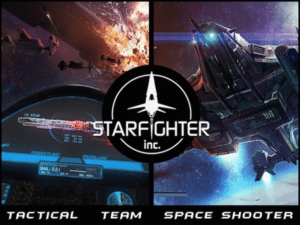 STARFIGHTER INC is described as a Hardcore PvP multiplayer space warfare focused on pure, unadulterated tactical simulation combat. It is a hard-science driven, zero-g experience where players can spin, tumble and strafe their way through a gritty frontier universe. Gamers control and customize every element of your ship, from the chassis to the powertrain to the cockpit layout.
The plot:
"Mankind's final frontier has been destabilized by corporate interests and powerful private military companies. The powers that be look to elite mercenary pilots to secure their holdings; violently if need be.

"Pilot a single-seat recon ship, fly with a squadron of interceptors, or team up with others to crew a multi-seat gunship as you take part in truly massive space battles. Immerse yourself in a gorgeous, cinematic, VR-enabled space simulator set in a near-future hard science setting.

"Intense, high-action combat meets classic X-Wing style space simulation gameplay on a scale you've never seen."
Noting why they decided to turn to crowdfunding, the Starfighter team, who also worked on the hit game Star Wars: X-Wing,  shared:
"This Kickstarter campaign will determine how far we can take this game. We have a great core design we know is going to be really fun, but if we want to make some of our bigger dreams a reality – things like playable capital ships, a player-owned universe, and scripted story content – we're going to need your help."
 Those who fund the project will receive community invitations, digital copy of the game, digital soundtrack, digital art book, and in-game "Beta Company" Badge.
Since its launch, the campaign has successfully raised over $80,000 from 2,500 backers. It is set to close on June 6th.
_______________________________________________
Have a crowdfunding offering you'd like to share? Submit an offering for consideration using our Submit a Tip form and we may share it on our site!