AOL co-founder, and entrepreneur advocate, Steve Case created Rise with the Rest in 2014.  Since that time he has been traveling across the country to identify promising young companies to back with his money and seal of approval. Rise with the Rest seeks startups in communities other than NYC and San Francisco – areas that have a tendency to have greater access to early stage capital.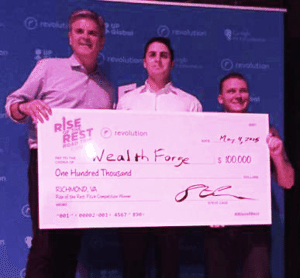 Last week WealthForge, an investment crowdfunding service provider, beat out seven other Richmond, Virginia, startups to take home $100,000 in funding.  WealthForge closed a Series A funding round in the Spring of 2014 f or $2.5 million so this recognition is probably more about validation from one of the best known entrepreneurs in the country (and JOBS Act advocate).
WealthForge stated;
"we are grateful for the support and talent in Richmond and will use the investment to further our efforts to provide companies access to private capital markets through our technology".
According to a report in VirginiaBusiness, founder Matt Dellorso described WealthForge as the;
"the PayPal for processing private transactions."
Launched in 2010, WealthForge has helped close over $51 million in transactions last year and claims 40 clients in real estate, agriculture, tech and health care crowdfunding space.
"We are growing every single month," stated Dellorso.
Case commented that Wealthforge differentiated itself from competitors because of its momentum and traction.

Sponsored Links by DQ Promote