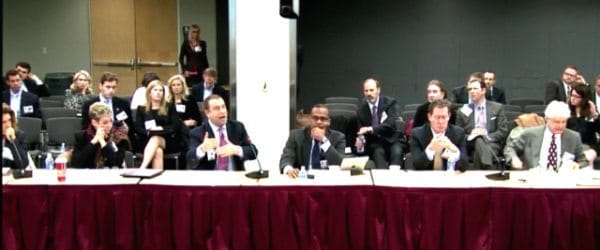 The Advisory Committee on Small and Emerging Companies (ACSEC) has scheduled its next gathering to be held at the SEC offices on June 3rd.  The announced agenda lists topics including; public company disclosure effectiveness, intrastate crowdfunding, venture exchanges, and treatment of "finders."
SEC Chair Mary Jo White commented on the agenda;
"The agenda reflects the important scope of the advisory committee's mandate," said SEC Chair Mary Jo White.  "Topics I am particularly interested in are the advisory committee's views on disclosure effectiveness and initiatives that will inform our capital formation efforts."
ACSEC is a "formal mechanism" that provides advice and insight to the SEC. While the recommendations may be practical the opinion of the committee is not something the SEC is required to follow.
The advisory committee also is expected to vote on a recommendation to the Commission regarding the "Section 4(a)(1½) exemption" sometimes used by shareholders to resell privately issued securities. This topic was initially discussed at the committee's March 4 meeting.
These meetings are open to the public and typically live-streamed on the SEC web site. The meeting is scheduled to commence at 9:30AM on June 3rd.
Agenda
9:30 a.m. Co-Chairs Call Meeting to Order

Introductory Remarks by Chair Mary Jo White, Commissioners, and Division of Corporation Finance Director Keith Higgins

10:00 a.m. Committee Discussion of Public Company Disclosure Effectiveness

11:15 a.m. Committee Discussion of Intrastate Crowdfunding and Securities Act Rule 147

12:00 p.m. Consideration of Written Recommendation on the "Section 4(a)(1½) Exemption"

12:30 p.m. Lunch Break

2:00 p.m. Committee Discussion of Rules and Market Structure Matters Relevant to Venture Exchanges

2:30 p.m. Committee Discussion on the Treatment of "Finders"

3:15 p.m. Committee Discussion of Next Steps/Future Topics

3:30 p.m. Adjournment

Sponsored Links by DQ Promote