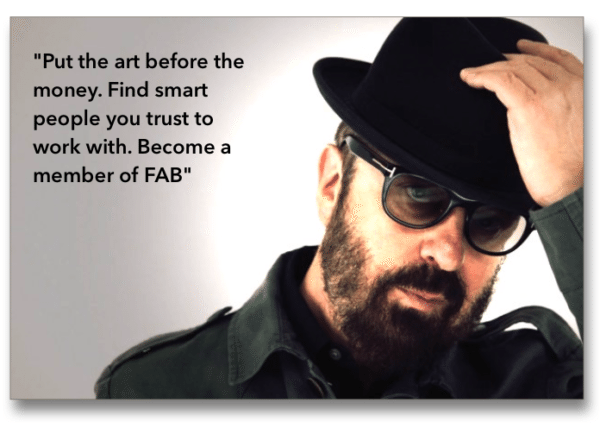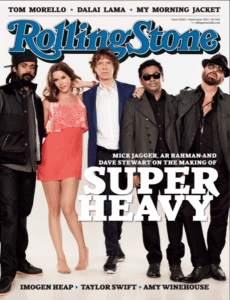 Known for sporting a natty brown fedora, Stewart literally wears many hats. Grammy Award-winning songwriter Dave Stewart is a producer, author, director, photographer, filmmaker, and philanthropist whose music career spans three decades and more than 100 million album sales, highlighted by his collaboration with Annie Lennox in the pop-rock duo Eurythmics.  He has also produced albums and co-written songs for Bono, Bryan Ferry, Gwen Stefani, Tom Petty, Katy Perry, Joss Stone and Sinead O'Connor.
Stewart is also one of FAB Financial's top investors. Pre-valued at $15,000,000,  FAB Financial's mission aims to help artists manage their finances and to make, market and monetize their creative work, putting FAB at the core of the $1.6T creative economy. To date, FAB's Crowdfunder campaign has raised over $4,174,000 of its $3,000,000 goal.
In addition to co-founding FAB Financial with  former CEO of Credit Suisse EMEA, Michael Philipp,  Stewart also serves as Creative Director for Ideas Britain, a mobile platform wherein people submit an idea in less than a minute and compete for support, expert advice and real- world commercial backing.  Ideas Britain linked with Crowdcube for its crowdfunding campaign, currently raising more than £281,264 of its £300,000 target for 5.66% equity offered.
In addition to his alternative finance interests, Stewart remains active in the music industry.  He recently teamed up with The Voice's executive producer Audrey Morrissey and singer- songwriter and Maroon 5 frontman Adam Levine on an NBC pilot called Songland, a project  predicated on the premise that the songwriter is king in the music business.
I recently caught up with Stewart via email to learn more about his forays into crowdfunding, startups, financial startup, artists and musicians, FAB Financial, Ideas Britain, Songland and other current projects.  Our interview follows:
---
Erin: Congratulations on your successful concurrent crowdfunding campaigns on Crowdfunder and Crowdcube.  Let's first talk about FAB Financial.  To date, the campaign has significantly overfunded, rapidly raising  $4,045,000 of $3,000,000 sought.  What was going on behind the scenes to make this a success?

Dave: Any sort of fundraising takes huge effort and behind the scenes the FAB team has worked very hard to bring in the right strategic investors. Most of the investment has come from people we already know and they have been big supporters of the idea behind FAB and of our business model.
Erin: How and why did you link with former CEO of Credit Suisse EMEA, Michael Philipp to cofound FAB Financial?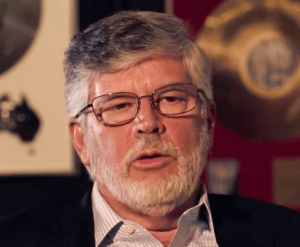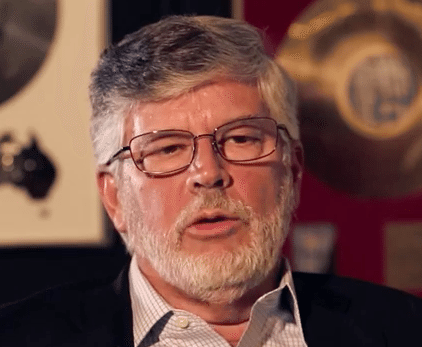 Dave: Michael Philipp and I have been friends now for over 15 years and he was one of the first people I ever talked to about FAB. Michael is not only a financial genius but an artist at heart who started his career as a potter. He gets artists and is an expert banker. I could't have partnered with a better guy.
Erin: What prompted you to utilize crowdfunding?  Why did you select Crowdfunder as FAB Financial's platform?
Dave: We could have raised the money through a more traditional route or continued to self fund it, but we decided to do a crowdfunding campaign because we believe in using innovative financial tools and because we wanted to give a broad range of people the opportunity to invest in FAB. We chose Crowdfunder specifically because our friends from Peerbackers, who specialize in crowdfunding and peer-to-peer lending platforms, thought they'd be the best for what we need. So far so good!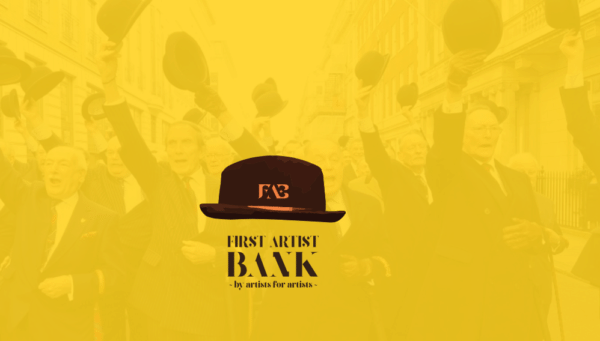 Erin: What sparked your interest in FAB Financial's mission, which aims to help artists manage their finances and to make, market and monetize their creative work, putting FAB at the core of the $1.6T creative economy?
Dave: Artists are often not very good with numbers or money (I know because I'm not very good with money or numbers) and we need help managing our money so we can get on with making art. And artists also need help developing their businesses as creative entrepreneurs so they can do things like raise money for their projects, build an audience and find new revenue streams. FAB is building tools and services to help them do all of this.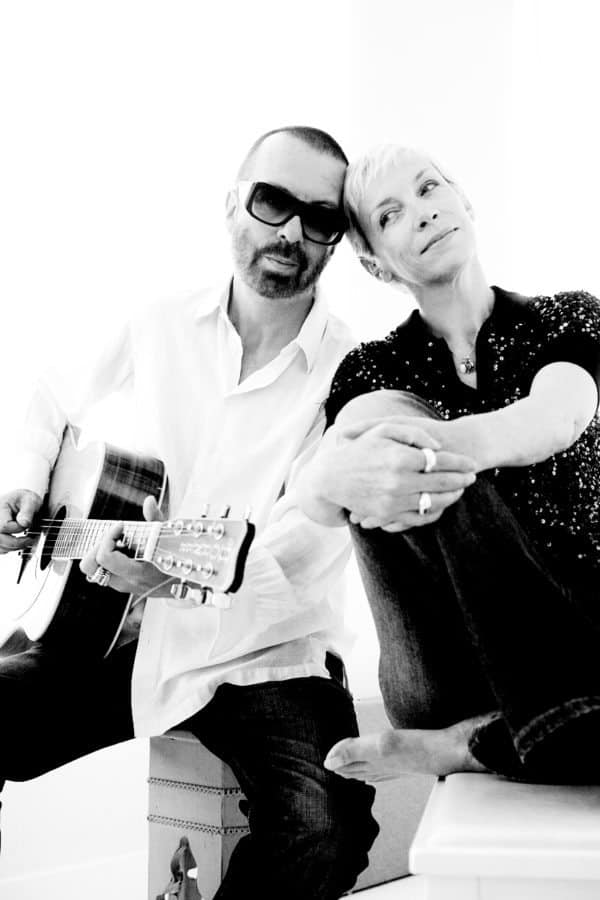 Erin: Who's playing in the band: which FAB investors would readers recognize? Please share some stories about why they decided to invest.
Dave: I can't give names, but let's just say there's some well-known artists and entrepreneurs in the mix! They all love the vision of FAB disrupting traditional banking and giving more control and transparency to the artists.
Erin: Please discuss a personal experience as a recording artist when you mismanaged your finances?  Before, during and after your international success and collaboration with Annie Lennox in the pop-rock duo Eurythmics, what financial and investment lessons will you never forget?
Dave: Buying a house and spending so much money making changes to it that 20 years later, after selling, I still made a loss.
Erin: FAB Financial is designed from the "ground-up for the creative community with the goal of becoming artists' trusted business advisor." Which P2P online models did you source and/or emulate for FAB's own model?
Dave: I'm not sure we're sourcing or emulating any existing P2P model for FAB, it's sort of it's own beast. P2P financing for artists will certainly play a role on FAB, but it's only one of many tools we'll be  offering to artists to help with fundraising.

Erin: Please share a successful example and setback of how you helped artists build better businesses, raised money through crowdfunding, leveraged social media and/or helped monetize their art through preferred distribution and e-commerce platforms.
Dave: We haven't launched the app yet but have already helped give artists some great opportunities. For instance, we tapped into our partner Talenthouse, which is a fantastic way for brands and artists to work together, to get our FAB logo designed. We put out a global invitation for submissions and picked as winner Mariana Aspru from Germany who we then flew to LA for three weeks to work on our branding.
Erin: Your concurrent crowdfunding campaign is for Ideas Britain, for which you serve as its Creative Director. Ideas Britain is a mobile platform wherein people submit an idea in less than a minute and compete for support, expert advice and real-world commercial backing.  Which roles do enjoy playing as Creative Director?
Dave: The great thing about being a creative director is working with incredibly talented people and guiding the work so it's true to the vision we've set out. I also personally want to make sue that everything I touch is anything but boring. Ideas Britain is a brilliant idea and I want to make sure it fulfills its potential through amazing creative work that inspire people to submit their best ideas.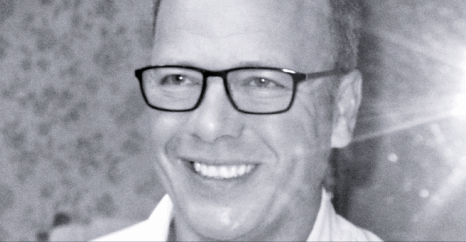 Erin: Ideas Britain has selected Crowdcube to power its next phase of growth. Why did you choose Crowdcube for Ideas Britain's equity crowdfunding campaign?  How does your experience thus far compare with Crowdfunder?
Dave: I can't comment on this. Ideas Britain CEO Adam Shaw made the call who to use and I trust his judgement.
Erin: Why is the Ideas Britain app called the "Dragon's Den for the mobile generation?"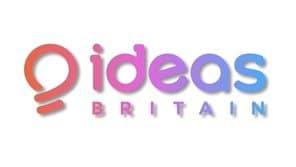 Dave: Ideas Britain gives everybody the opportunity to pitch their ideas and so is a very democratic platform. For young people mobile is increasingly becoming the primary place where their media consumption takes place.  A mobile app is the natural place for future entrepreneurs to pitch their ideas and turn them into reality.
Erin: Working with two distinct startups required wearing many hats (including your iconic brown fedora), how do you shift gears when working on the individual startups? Describe the team's synergy on FAB Financial and Ideas Britain.
Dave: I put on many different hats! Actually that's true, at least metaphorically. I've always had the ability to work on many different projects at the same time. If you came into my Hollywood office on any day you'd find me producing music, developing film and TV, managing artists as well as being deeply involved in discussions about FAB and Ideas Britain.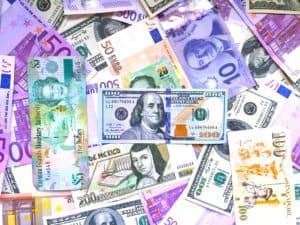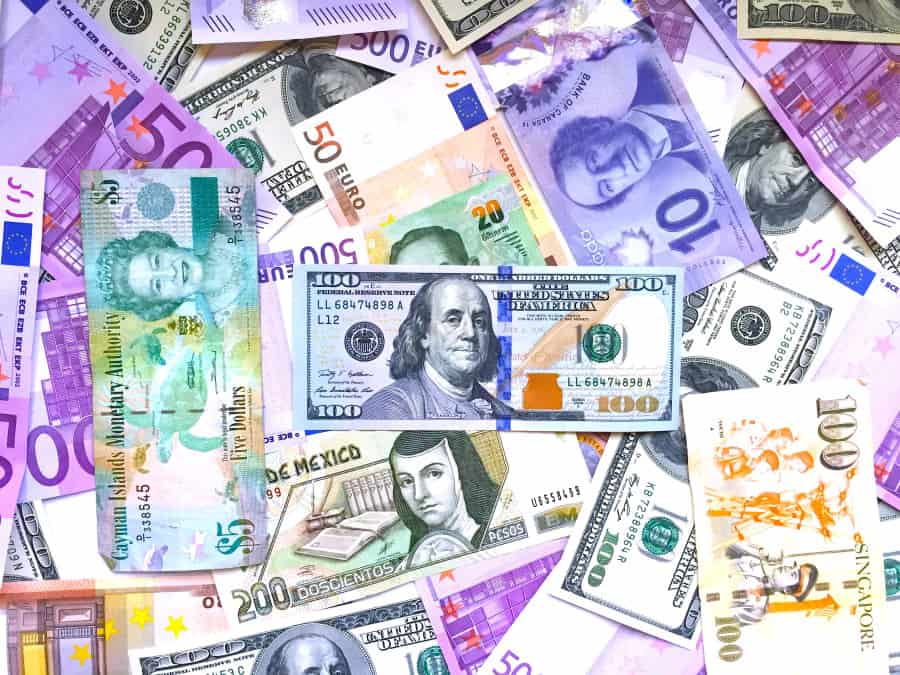 Erin: As an already successful and world-renowned musician and entrepreneur,  what other projects do you have in mind?  

Dave: I have a music competition TV show called Songland that major US TV network NBC has green lit as a pilot and a movie project called 'Zombie Broadway' that I'm currently casting for. I just produced albums for five amazing artists and am managing the careers of seven artists including Nashville-based SHEL and The Lake Poets from my home town of Sunderland.  There are many more projects I'm excited about.

Erin: Lastly, what advice would you give to your fellow artists-turned-entrepreneurs? 

Dave: Put the art before the money. Find smart people you trust to work with. Become a member of FAB.

Have a crowdfunding offering you'd like to share? Submit an offering for consideration using our Submit a Tip form and we may share it on our site!

Sponsored Links by DQ Promote