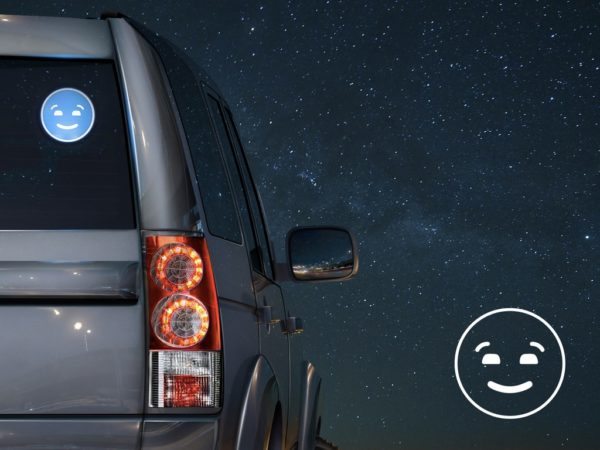 Taking a step to ending road rage, MotorMood has launched a Kickstarter campaign to raise $130,500 so that it can give motorized vehicles… smiley faces?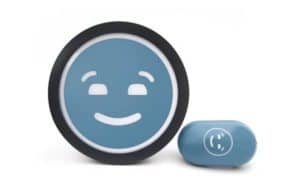 You read that correctly: MotorMood's self-titled system says thanks to other drivers at night using a remote controlled light-up happy face. Forgot to wave at the driver let you into a different lane? Fear not. With the smiles, drivers will never have to deal with dirty looks (or worse… tailgating…) from strangers.
The company wrote:
"The road can often feel like a hostile place full of traffic jams and miscommunication. We're here to change that! MotorMood is an accessory for your car which lets you say thanks to other drivers at night using a remote controlled light-up happy face in your rear window."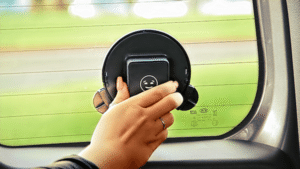 Here's how it works: A single push of the remote button lights up the happy face for six seconds before it automatically turns off. The smiley face comes in three colors (blue, pink and green). The face simply attaches to the inside of your car's rear window using removable adhesive clips.
The remote for the smile slides onto any sun visor just like a garage door opener. It's easy to reach, but doesn't get in the way or distracts the driver. Everything is wireless and battery powered.
Backers of the project can receive rewards such as 1 MotorMood ($19); 2 MotorMoods ($38); 3 MotorMoods ($57); Custom MotorMood ($100); 10 MotorMoods ($190); Trip to Disneyland ($1,000); VIP Southern California Experience ($10,000).
During a recent interview with Entrepreneur, MotorMood's fourth co-founder, Kina de Santis, shared her thoughts about the project:
"Everyday, you're stuck in your car. You're isolated by barriers of glass and steel. And you're so used to being able to share your emotions all the time"
Co-founder and president, Jesse Kramer, revealed that once a smile is spotted, MotorMood yields an element of surprise that is noted as "magical for bestower and receiver alike:
"You see something light up out of nowhere and it ignites this sense of wonder, enjoyment and happiness."
MotorMood's campaign is set to close on July 30th.
___________________________________________________
Have a crowdfunding offering you'd like to share? Submit an offering for consideration using our Submit a Tip form and we may share it on our site!