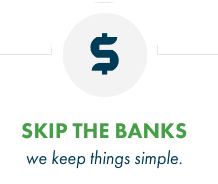 StreetShares has received a California Finance Lenders' License. The license provides the licensee with an exemption from the usury provision of the California Constitution. StreetShares, a veteran-owned and operated platform,  currently focuses on using competition and affinity lending to lower borrowing costs for veteran-owned small businesses. StreetShares states there are more than two million veterans in California, and four million small businesses in the state.
"Our desire is to bring a competitive marketplace to online lending," StreetShares CEO Mark L. Rockefeller said. "Who better to first benefit from this system than our fellow veteran small business owners in the state of California?"
StreetShares recently secured commitments of more than $200 million in funding from California-based impact investment firms Direct Lending Investments and Community Investment Management to back loans on the StreetShares marketplace.
The StreetShares marketplace combines the lowest bids into a single loan for the business, a technique designed to decrease the borrower's cost to the lowest-possible rate. StreetShares funding is open to any qualified small business owner and the company is based outside of Washington, D.C.