Looking to add more optimism into the world, artist and creator of "Things Could Be Worse" mugs Don Moyer launched a Kickstarter campaign to raise $25,000.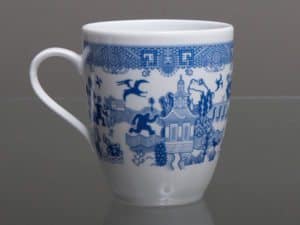 These porcelain mugs feature Moyer's drawings of a traditional blue-willow paradise discombobulated by more than a dozen calamities, perils, and pests. These include a hairy fiend, giant frog, pirates, cephalopod, unpleasant blob creature, voracious sea monster, UFOs, aggressive pterodactyls ambunctious robot, zombie poodle, other suspicious animals and shrubs.
Moyer wrote:
"Sponsors of this Kickstarter project will receive sets of four identical mugs decorated with my multi-calamity drawing. These mugs are made and decorated by the award-winning Kristoff Porcelain workshop in Poland using the traditional in-glaze technique. The mugs are food safe, microwave safe, and dishwasher safe so you can use them every day to remind you of all the problems you don't have.

"The Things-Could-Be-Worse Mug is NOT like those cheap ceramic mugs you get free from the auto body shop or the veterinarian. This is fine porcelain that will enhance your dinner table today and could also delight your descendants for generations."
Also noting why the mugs come in a set of four, Moyer shared:
"When you see how fine these mugs are, you're going to be glad you have multiples for all your guests. If you are a lone wolf who survives with only one mug in your kitchen, you'll have three beautiful mugs to give as gifts. Experts have assured me this is the way that classy dinnerware is packaged. Besides, I don't have the resources to pack and ship mugs in different quantities. Keeping track of all that would make my head explode. Trust me—you're going to be glad you have multiples.
"I worked hard to find the perfect mug size and shape. I wanted to avoid the discomfort of gargantuan mugs that are too big to lift and tiny mugs that require constant refills. Unlike bland, ubiquitous cylindrical mugs, this mug's gently curved shape enhances your meals with a sensuous form that suggests plump bounty and refined social grace. Caution: This high level of refinement may drive you to upgrade to a better quality coffee or tea."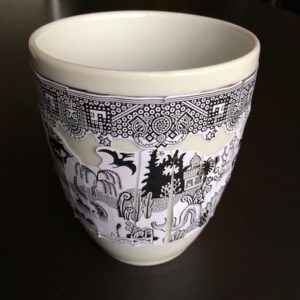 Those that back the project can receive the mugs for the price of $48 (basically making the mugs $12 each). In regards to when backers will receive the mugs, Moyer added:
"I've already completed this mug design and inspected the first prototypes. A second prototype is needed to confirm a tweak that was needed to refine the UFOs. Production can start as soon as I have enough pledges. Assuming nothing calamitous happens, you should be enjoying your favorite beverage in an amazing mug by early November 2015. Probably sooner."
Since it launch this morning, the "Things Could Be Worse" mugs have successfully raised nearly $25,000 thanks to over 350 backers. It is set to close on July 31st.

_____________________________________________

Have a crowdfunding offering you'd like to share? Submit an offering for consideration using our Submit a Tip form and we may share it on our site!

Sponsored