SocietyOne, Australia's peer-to-peer (P2P) lending platform, announced that Mitchel Harad has joined the company as Chief Marketing Officer (CMO). Harad was the Vice President of Marketing of Lending Club, a leading direct lender with headquarters in San Francisco.

Leading Lending Club's borrower marketing efforts over the past four years, Harad notably was "key to growing" quarterly loan volume more than 30-fold – from $50 million when he joined the company to $1.6 billion (AUD$2.2 billion). Lending Club completed the second largest initial public offering globally in 2014, and has a current market capitalization of US$5.6 billion (AUD$7.6 billion).
Matt Symons, CEO and co-founder of SocietyOne, declared:
"Mitch has an amazing track record and was a major contributor to Lending Club's growth. We could not be more excited to have recruited Mitch from the world's most successful marketplace lender as SocietyOne continues to thrive and accelerate its own growth."
Harad shared:
"SocietyOne has striking similarities to where Lending Club was when I joined them. The company is already growing at a rapid pace and is well equipped with excellent management, technology and resources to scale to provide a better alternative to millions of consumers. I think the opportunity SocietyOne has in Australia is enormous and I'm thrilled to join their team".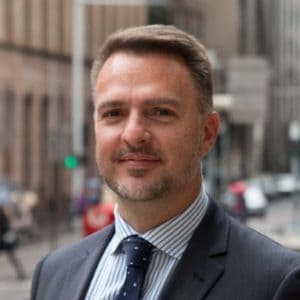 Greg Symons, co-founder of SocietyOne, explained:
"As the pioneer of marketplace lending in Australia, SocietyOne is still a young company. Mitch brings a unique level of maturity and experience as CMO that will be instrumental in driving the business forward".
Harad's move to Australia to join the SocietyOne team also marks another important achievement for Sydney's burgeoning fin-tech industry. Alex Scandurra, CEO of Sydney fin-tech hub Stone & Chalk, revealed:
"When entrepreneurs like Mitch Harad move from San Francisco – the heart of the global financial technology movement – to Sydney, it's a testament to the increasing popularity of Australia as an attractive destination for world-class talent."
Harad added:
"I'm extremely impressed by the excitement and energy around financial innovation I'm encountering in Australia. SocietyOne has a fantastic entrepreneurial culture that would be right at home in Silicon Valley."
The announcement adds further to an exceptional year for SocietyOne, which closed a $25 million capital raising round in February with a consortium of top-tier Australian investors, represented by Consolidated Press Holdings, News Corp Australia and Australian Capital Equity. The investment marked a milestone for SocietyOne and its ability to scale the business so more credit-worthy Australians can get a better rate on their personal loan.

Sponsored Links by DQ Promote