A little over a year ago, Harmonix, the studio behind the forever addicting video game Guitar Hero, launched a Kickstarter campaign to raise funds for Amplitude. The video game is known as a "rhythm-action music game" for PlayStation 3 and PlayStation that is based on the 2003 cult classic.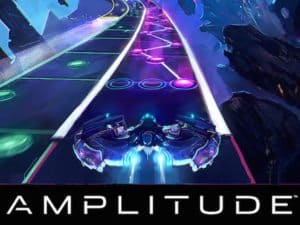 Although Amplitude was to be delivered in March 2015, it was announced in January that the game's release was pushed back to the summer. Unfortunately, the creators of the project revealed last week that it would be unleashed to backers in January 2016.
Alex Rigopulos shared in a recent post:
"As the game came together this year, it became apparent to all of us that it was shaping up to be something really special. The gameplay is as fun and addictive as ever, the HD visuals are gorgeous and hypnotic, and the soundtrack is killer.

"The game is fulfilling all of our hopes and ambitions for it, and at a certain point, we made a major call: We've decided to double down, increase the project budget, and make the new Amplitude bigger and better than the scope of game we originally pitched to you all last year."
Ryan Lesser (aka Cartoon Ryan) went on to explain:
"Although we had originally promised about 16 songs total, we have decided to cram as much awesome music into Amplitude as possible. We now upped the total count to 30 songs! If you are a backer at the appropriate tiers, you will also get a 31st song too, voted on by the Song Senate—our group of backers that chipped in at the Song Senate tier. (Side note: In a display of true Amplitude community good will, the Song Senate decided to keep the "most wanted" song in the main game soundtrack, instead of keeping it all to themselves. THANKS, SONG SENATE!)

"You guys may also recall that early in the dev cycle, we decided to add a concept album wrapper to the otherwise vanilla solo mode. This is all new for Amplitude and we think it adds a bit more depth and interest to the game and the songs themselves. The core campaign now includes 16 all-original songs, written in-house by our amazing musicians. You have heard some of these tracks in past posts and at the conventions… songs like 'Decode Me' and 'Wetware.'

"In addition to the basic play modes that were promised originally, and the single path/single environment in which they would be presented, we decided to expand both of those dimensions by adding 2 more playable environments, unique path topology per song, and more play modes. We are now shipping a solo campaign, solo free play, 2-4 player "free-for-all", and an all-new team play mode (1v3, 2v2).

"Over the course of the project, we created the original nano blaster and the backer blaster, and also made 3 additional nanoblasters for players to choose from in solo and multi play. (v0.9 Chubs is my personal fave, displacing v1.1 Raven). We have added leaderboards, allowing players to compete asynchronously against each other online for score, both per-song and across the whole game."
Here comes the kicker. Rigopulos continued:
"So that's all of the good news. Now for the bad news that comes along with it: It's impossible for us to finish all of these extra songs, environments, features and modes on the same schedule. Our previous target for shipping the game was this summer. Now that we've committed to this expanded scope, though, we won't be able to complete and ship the game until the end of this year on PS4 (with the PS3 version coming shortly thereafter).

"Kickstarter backers who paid for the 'early access' reward will be able to play the PS4 version in December, prior to the holiday break. For everyone else, the PS4 version will become available in January. (We'll follow up with the exact dates in December and January for PS4 as soon as we have them. PS3 will follow shortly behind.)

"We know that this schedule slip will be a disappointment to many of you. (Frankly, it's disappointing to us as well, as we're all dying to play the finished game…) However, our judgment was that our highest priority is to deliver the best game we possibly can to our fans—the definitive version of Amplitude. We want to over-deliver for our biggest supporters, and that's simply going to require some extra time.

"Some of you might wonder—will this delay mean that synchronous online multiplayer will be added? I'm sorry to say, it will not, as that is impossible within our budget means for this game, even with the expanded budget. However, our hope is that this release of Amplitude will be successful enough to justify a sequel or feature expansion pack that could include this. In the meantime, the newly added leaderboard system will enable plenty of heated asynchronous online competition!

"Finally, I should add that the physical rewards are beginning production, and we'll have more news on those in the coming weeks. From the whole Amplitude team, thank you for your continued support and patience. We think that when you see the finished product at the end of this year, you'll agree that the wait as been worth it!"
While some backers were optimistic about the news, others – not so much. One backer stated:
"This feels like a bait and switch effort for time. Because I suspect your team is working on the TIME DATED ROCKBAND 4 project due to be released 10-6-2015. So I suppose this delay is because your team is being dragged into helping on a project that shouldn't be started until you have FINISHED your backer rewards and finish up the game. Seriously not happy at all that you are trying to **** us in the dirt with this "delay" update. We want transparency, not lies. Show us current content rather than drag us through the mud."
Another commented:
"So not happy with this and to wait this much time to tell us. Why get our hopes up? Why not tell people at the start of Summer. I feel this had to have been known for months and you waited. You're being completely disrespectful and inconsiderate to your fans. For those who put down any money the 31 tier track should be opened to them due to your delay. Those who didn't support you from the start can wait for a sale or to get your game. A game where you didn't add one new power-up."
Let's hope for Harmonix's sake that this is the last time Amplitude will be delayed.
Have a crowdfunding offering you'd like to share? Submit an offering for consideration using our Submit a Tip form and we may share it on our site!