Last summer, Belgium-based GRIN Gamestudio took to Kickstarter to raise funds for its video game, Woolfe- The Red Hood Diaries.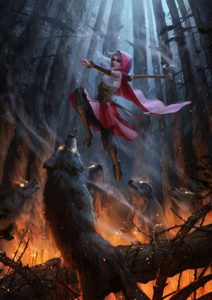 Woolfe- The Red Hood Diaries is described as a twisted fable in a rich, fantasy setting of smoke-spewing factories and evil forests. It is considered an action-platforming fairy tale of death, industrial greed and vengeance.
Key features of the game include:
2.5D Action-Platforming: Woolfe's 2.5D levels combine the simplicity of sidescrolling gameplay with three-dimensional worlds to explore and puzzles to solve.
Fast, Axe-Wielding Combat: Armed with her trusty axe, Red will need to skillfully execute combos to strike at her foes' weaknesses. A mindless hack-'n'-slasher this is not.
Deranged Fairy Tale Bosses: Woolfe's boss-battles are the creatures of nightmares. Buckle up for a bloody encounter with "familiar faces" such as The Pied Piper, a monstrous Pinocchio and a Creeping Beauty.
A Rich, Visual Experience: Woolfe's multi-layered, atmospheric artwork was inspired by masters of imagination, including Tim Burton and Dutch painter Anton Pieck.
A twisted fairy tale story: This take on the Red Riding Hood legacy is not your ordinary bedtime story. If you thought the original versions of the story (not the blockbuster derivates) were cruel, think again!
During its campaign, the project captured $72,139 from 2,378 backers. Unfortunately,  GRIN's Wim Wouters announced earlier this week that the project (and the company) has been shut down for good. The last update on Kickstarter reads:
"The team is now dismantled and we have requested bankruptcy unable to pay outstanding bills. I guess our public silence the last few months already said a lot. It is not out of disrespect that our communication dropped to almost zero… it is out of shame. It is truly devastating to read the negative comments we received by some press and players. With Woolfe being the most passion driven thing we have ever created, it feels horrible to live with the feeling we let you down.

"This is not just the end of Woolfe, but the end of the studio that I founded and nurtured through ups and downs the past 13 years. In 2002, when I founded GRIN with 2 partners, it was our goal to develop independant games. At the time we were focussed on browser based 3D games. Not an easy market to make a living from at the time. Less than 2 years after we started my 2 partners stepped out; there just wasn't enough work to go round.

"While not losing my passion and still spending every minute of spare time, I generated my basic income doing work-for-hire jobs. Every year the company grew a little stronger, a little better, a little more stable. Until 2 years ago, GRIN had 5 full-time employees exclusively making games for clients, we even made enough money to save a little cash on the side. We would use these savings to create the game of our dreams. Little did we know this would be the beginning of the end…

"The optimist in me led me to believe we could actually pull off making a "bigger" indie game. I really wanted to prove an indie game did not have to be rendered in pixels or stylized as a solution to cut development costs. I wanted to believe that a team of 6 to 10 people could make a game that looked and felt AAA. Boy was I wrong!

"At first we could not believe that our 'baby' was not more successful, in our emotions we started looking for explanations not related to the game. Maybe gamers are just spoilt brats, bashing on everything, maybe there is an oversaturation of indie market, maybe all the free-to-play games by big studios are giving players a false sense of value. How could less than $10 be to expensive for a beautiful game like Woolfe? How could this be our fault? Of course none of the emotional excuses above are the reason of our mixed steam rating. We can only blame ourselves…

"Why on earth would we want to increase the scope of our game without increasing the budget. Ok, it is understandable that you get inspired to try new things in gameplay, you have to experiment to come up with creative ideas and solutions. I'm not saying the ideas we came up with were impossible. But changing gameplay from 2D to 3D had a major impact on overall development cost (we found out a little too late). Collision detection for instance (and you can't even really see that) became such a big issue so fast. Instead of having a simple 2D track where you would not be able to collide with small environment props like crates, piles of stones or skulls. Now every little element had to collide, every crooked stone on the floor had to trigger correct foot placement.

"The same goes for the fences that seem to cause so much frustration with some players. Although is was a conscious game-design decision, I believe the feeling of freedom the 3D movement opened up, gave players the sense that Woolfe was no longer a platformer, but an open-world type game (more than once compared to Assassin's Creed, which is an honor, but also a curse as we would never be able to compete).

"Although our rules for fences and borders were used very consequently throughout the game, we just couldn't get players to see them as an environmental gameplay challenge.  Not to mention the combat… OMG! How much more work it turned out to be having enemies follow and engage with the player in the semi-open environments we had grown to love."
Here comes the bad news. In regards to what happens to the backers, Wouters added:
"The people that believed in us from the beginning? People we made promises too. People we have let down. Even worse… people we will not be able to give the full rewards they invested in.

"The crazy thing is, that we have most of the rewards ready for postage. All the backer stickers and letters of enlistment just need a stamp. All the poster sets printed, signed and ready. The artbook is ready to be printed, the soundtrack is ready for distribution, the DVD case is ready for production. But we have literally no money whatsoever to pay for stamps, let alone print the artbooks and dvd-cases."
Despite the news, there were mixed responses from backers. Although some were upset, others remained optimistic.
Have a crowdfunding offering you'd like to share? Submit an offering for consideration using our Submit a Tip form and we may share it on our site!