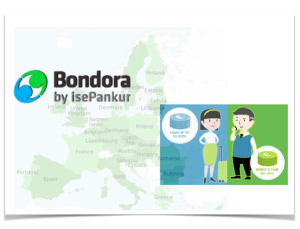 Bondora, previously doing business as isePankur, is one of the faster growing peer-to-peer lending platforms in Europe. Based in Estonia, but also approved by the FCA in the UK, Bondora recently updated its legal approach to dealing with loans in default.
Loans that go bad are an issue for any direct lending platform.  Bondora is pushing to be a pan-European platform and thus is under the regulatory scrutiny of diverse, and sometimes convoluted, nation-specific rules.  Their new approach is said to "reduce compliance and operational risks for investors on the platform. The new structure will be rolled out by end of August".
As Tatiana Skvortsova explains;
Under the new legal structure the loan originator shall be Bondora (isePankur AS), meaning that Bondora shall conclude loan agreements with borrowers and then assign the loan claims deriving from loan agreements to the investor. The claims deriving from the loan agreements are assigned to the investor through a broker entity immediately after the loan agreements have been concluded.

According to the claim assignment agreement, Bondora will continue to service the loans in its own name as it is currently. In case of default of the customer the ownership of the claim is assigned back to Bondora as it is currently. The claim will be secured in favour of the investor until the claim has been assigned back to the investor. If Bondora receives any payment as a fulfilment of claims it forwards payments (minus fees payable to Bondora or third party collection companies) to the investor.
Bondora is also forming agreements with debt collectors to improve the "debt recovery process".  This can be a challenge as what is allowed in one country to recover a debt, may not be allowed in another. Bondora states it is currently in negotions with several "internationally recognized companies" which are active in the countries in which they operate.
Of course for an investor you just want to know how much of your money can you expect to be returned.  Bondora explains they are testing different companies to determine who will provide the best overall return. Prior to June, Bondora sent all defaulted loans to court. As one would imagine this is a costly and a time consuming solution.
The discussion pulled Bondora CEO Pärtel Tomberg into the mix where he clarified several questions;
Bondora will continue to operate a loan-based crowdfunding platform. The structure we used was not similar to other platforms regulated by FCA. Now it's more uniform. The structure is modeled based on US asset-backed securities investment industry standards. The key benefits of the new model are: (1) companies can buy these assets, (2) we can set up a backup servicer to manage portfolio administration in case of our default, and (3) potential to securitise the assets. First adds liquidity, second reduces operational risks and third makes it easier and more tax efficient for investors to buy the loans (e.g. packaged as a bond).
Bondora has ramped up operations quickly in the past several years. The platform has facilitated almost € 60 million in loans with an average net return of just over 19%. The higher return is naturally paired with a higher level of risk. The shift in approach is a sign of growing pains as the lending platform pushes into more countries.

Sponsored Links by DQ Promote