Last month, President of  C.Y.C.I  (The Liberation of Christian and Yazidi Children of Iraq) and Québec resident, Steve Maman, took to crowdfunding platform GoFundMe with a mission to raise $2 million to free the Christian and Yazidi children in Iraq from the horrifying conditions they are currently living in.
Sharing details about the project, Maman wrote:
"Months ago, ISIS took over the town of Mosul, Iraq. Christians, Yazidis and other religious minorities were driven out of their homes by fear. ISIS systematically killed men, women and children without pity.

"Many of the women and young girls are being held hostage for enslavement and sexual purposes. In captivity, they also suffer from malnutrition and physical abuse causing their overall health to deteriorate at an alarming rate. They are held in the worst conditions, often forced to sleep in cages. The women and children are then sold like cattle in markets as sex slaves to ISIS fighters and militants."
Noting most of the children's age range, Maman explained:
"There are many reports of owners that have decapitated innocent children and women because they refused to perform certain sexual acts. Those who comply are repeatedly beaten and serve as sex slaves to their owners, as well as their friends and guests, hardly ever limited to one predator at a time.

"Many young adolescents are sold to brothels, where they are raped 30 to 40 times a day by ISIS fighters. The U.N reports that ISIS militants have forced overly abused sex slaves to undergo virginity restoration surgery, up to 20 times after being raped and sold. This type of female genital mutilation is gaining popularity as these young girls may command premium prices on the market."
Also revealing how he became involved in the cause, the C.Y.C.I president stated:
"In light of all this, I said to myself: I can not, and will not stand idle. I will not look at the daily reports and stay passive. As I was always taught: 'One who saves a life, saves a world.' I decided to act and make a difference.

"While we sit in the comfort of our homes, young children and women are being used as commodities, being raped and beaten at the mercy of ISIS. We hear about decapitations, about the gruesome murders, about the innumerable rapes, yet, we feel so far removed from it as it seems so far from OUR reality, as if it is stemming from a horror movie. THIS IS THE REALITY that they are facing in the world WE live in. What if someone had told Oscar Schindler that what he tried to do in the time of the Holocaust was incomprehensible and impossible? Nothing is impossible.

"The price of a child's life to remove them from the hands of ISIS is between $1000-$3000. We, as avid consumers, spend that money on gadgets and tools. Why not spend that money to SAVE A LIFE?   It is thanks to highly placed contacts in Iraq that we were able to put in place a structure to liberate and assist the freed Christian and Yazidi women and children. We are able to say with assurance that the mission was very successful. In the short period of time since January 2015.

"In not even a year, CYCI has been able to release 102 women and children, bringing them to safety, and giving them a chance at a life that is worth living. They were escorted to a secure location in Northern Iraq where short-term shelter, food, and medical care was provided. Assistance was then offered to help them relocate and rebuild their lives.
"Unfortunately, there are thousands left in this situation. I cannot turn away from all the others after such positive results. This mission is a major undertaking and I feel confident that we can carry on with success. However, it is clear that we can no longer continue without financial support for the most important humanitarian cause of this era."
Although his organization has yet to provide a website, Maman's CYCI is known throughout Canada and some even consider him the "Jewish Schindler." During a recent interview with CBC, he said:
"When it's women, younger women, it's always a question of rape…repeated rapes…it's a question of being resold numerous times, we hear about beatings, we hear about women being under fed, we hear about women actually being kept in cages, we hear about women that were actually threatened with being burnt if they wouldn't do certain sexual acts.

"We raise the funds…we have the team on the ground which is a trusted team…these people receive the funds that we send to them…they actually have made great connections throughout the last 15 years in the areas of Iraq."
Unfortunately, while the campaign has successfully raised over $575,000 thanks to 3,000 supporters, it has been hacked. Maman announced over the weekend.
"ATTENTION: Some of you may have been receiving emails such as this one. Please BEWARE that this email is not coming from us. We've been HACKED. You should always donate directly on our website or GoFundMe page. There are people who wish to discredit our organization and jeopardize a mission that is saving children's lives. Rest assured, we are doing our best to take care of this issue as fast as possible."
Below shows a picture of the hacker's emails.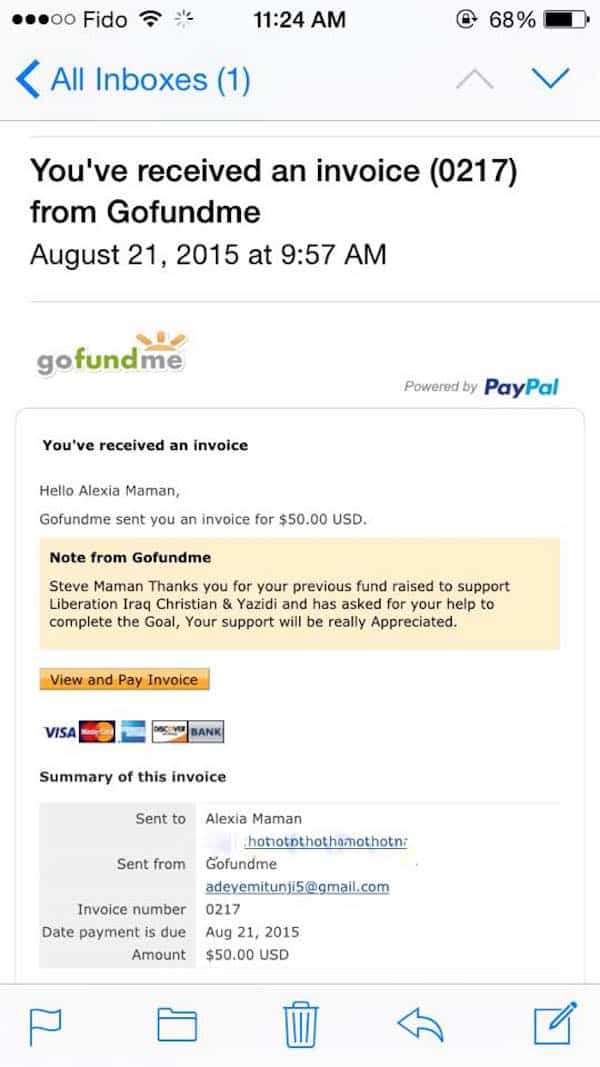 Maman and the rest of the C.Y.C.I. plan to continue to run the campaign until it reaches the $2 million goal.

Have a crowdfunding offering you'd like to share? Submit an offering for consideration using our Submit a Tip form and we may share it on our site!

Sponsored Links by DQ Promote