Seems fans of Larian Studios' Divinity: Original Sin are really looking forward to the game's highly anticipated sequel! Divinity: Original Sin 2 hit Kickstarter last week and quickly received its initial goal of $500,000. Within five days of its launch, the project scored over $1 million.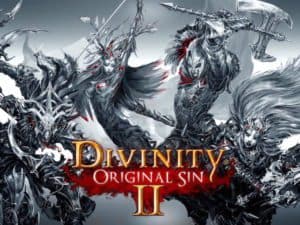 Divinity: Original Sin first hit the crowdfunding platform in spring 2013 and is described as an Isometric cRPG that can be played in single-player mode or cooperative multiplayer mode. The game's story reads:
"In the game, you control a party of heroes and guide them on a quest to learn a forbidden magic called The Source. This powerful magic was outlawed many centuries ago by the Council of Seven, the rulers of Rivellon, for it is written that from Source the lord of Chaos will spawn. Today, Source magic has been used to overthrow the Council. It's up to our heroes to save the Council. To do this, they'll need to uncover the mysteries of the Source and of those responsible for cursing the Council."
Divinity: Original Sin 2 is described as a single and multiplayer top-down, party-based role-playing game with pen and paper RPG-like levels of freedom. The game features turn-based combat, a strong focus on systematic gameplay and a "well-grounded narrative." The game is currently in development for PC in English and subtitles will be available in German, French and Russian. Other gaming platforms and subtitle languages might be announced at a later stage.
Sharing their thoughts about the game hitting $1 million, the Larian Studios' crew shared:
"By the Seven! It's crazy enough that we blasted through our original goal of $500,000 in just 12 hours, but now we've hit $1,000,000 on just Day 5? Unbelievable! The support we've received from you all has just been amazing. Thank you so much to each and every one of our backers: you're helping this dream become a reality, and we're very, very excited to work with you over the coming months to make this game something truly special."
The studio unveiled details about the game's racial skills:
"Crossing the seven figure mark means that we will now be introducing Racial Skills to each Origin! Choosing a lizard over a dwarf will no longer be an aesthetic choice: now it will come with a range of skills, talents, and abilities that will reflect each race's background, strengths, and place in the world. The history of your race will now directly affect how you fight, converse, and move through Rivellon. It'll change how you deal with NPCs and friends alike, and will add a brand new layer of complexity and tactics to combat and your experience, letting you shape and mould your characters into the people (or lizards) that you want them to be."
Larian then added:
"We've had an amazing time taking Divinity: Original Sin 2 across America, and especially showing it off at PAX; it's been great to see the reactions from the press and the public alike."
The campaign is set to close on September 30th.
Have a crowdfunding offering you'd like to share? Submit an offering for consideration using our Submit a Tip form and we may share it on our site!