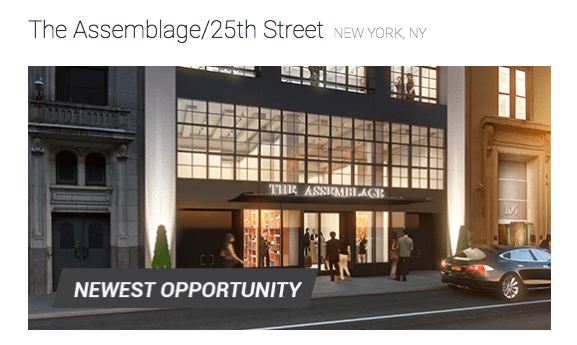 The first real estate project in New York to be financed notably through crowdfunding, AKA United Nations, will open to guests starting Sept. 10, notes a recent story on BloombergBusiness. The extended-stay hotel-condominium on East 46th Street near Second Avenue cost $95 million to purchase and fix up the existing hotel, $12 million of that was gained through online pledges.
Rodrigo Nino, CEO of Prodigy Network, the real estate crowdfunding platform that is gut-renovating the building with partners, said it's:
the first ever crowdfunded building in New York coming to completion, from A to Z.
He added that until now,
everything has been about promises.
Bloomberg notes that real estate crowdfunding–still a young movement–has fought to establish its credentials in a market where institutional capital abounds, particularly in places as attractive as New York. For perspective, Bloomberg has the numbers:
This year, crowdfunding for commercial real estate will more than double to $2.57 billion, the research firm Massolution estimated in March. That's a tiny fraction of nationwide sales volume, which totaled $255.1 billion in the first half, data from Real Capital Analytics Inc. show.
In other words, real estate crowdfunding may still have a ways to go before it changes the industry as Kickstarter did for creative endeavors. In part, this is because real estate crowdfunding is more complicated. Investors are usually required to be accredited, proving that they can reasonably take risks with their capital, often by showing their tax returns.
According to Bloomberg,
At AKA UN, a block and a half west of the General Assembly Building, Prodigy is marketing 95 one-bedroom condos, priced from $1.2 million to $1.5 million. The units — ranging from 562 to 662 square feet (52 to 62 square meters), all with kitchens and most with a balcony — will be rented as extended-stay hotel suites until they find buyers.
The crowdfunding campaign drew 116 backers, pledging at least $20,000 each. They can expect a return on their investment of 19 percent to 23 percent, mostly from sales of the units and some from hotel fees, according to Prodigy. About 90 percent of the crowdsourced money came from outside the U.S., said Brian Newman, the company's business-development chief.
One of the advantages that Nino brings to Prodigy is the support of a core of Latin American investors. He began his first crowdfunding campaign in Columbia, his country of birth, in 2010, to construct BD Bacata, the tallest tower in Bogota.
Ben Miller, co-founder of Fundrise.com, notes that Prodigy's campaign in Manhattan "shows the real estate industry that crowdfunding isn't just a theoretical model." Fundraise.com, according to Bloomberg, sold interests in bonds backing 3 World Trade Center in Manhattan for amounts starting at $5,000. Miller said that their effort raised $5 million, though some of the investment banks that originated the bonds were resistant.
So who would live in the condos (all furnished) at AKA United Nations? Buyers across the globe who visit occasionally, and could rent out their investments the rest of the time, Newman said. Note: After the units are sold, crowdfunding investors would no longer receive income from the hotel fees. Also, New York isn't known for being inexpensive–and prices for these condos adhere to this standard, costing more than comparable housing in the area and requiring higher monthly charges.


Prodigy currently has three more crowdfunding projects in New York. The newest opportunity is The Assemblage/25th Street, "an existing 12-story building located at 114 East 25th Street, at the heart of NoMad in Manhattan." The minimum investment is $20,000, with an estimated holding period of 3-4 years and a projected IRR of 10-12 percent.
Commenting on he benefits of crowdfunding, Nino said,
There's a ton of people making too much money and a growing number of people not making enough. …In a crowd economy, you get individual growth, and the crowd gets a positive impact as well.
Have a crowdfunding offering you'd like to share? Submit an offering for consideration using our Submit a Tip form and we may share it on our site!

Sponsored Links by DQ Promote