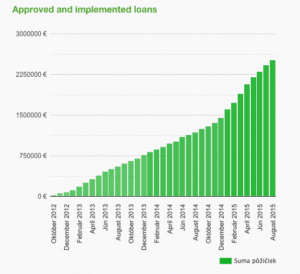 Country by country all aspects of finance are moving online.  Žltý melón is the first peer to peer lending platform to set up shop in Slovakia and has set it sights on expansion around the region.
Originally reported in P2P Banking, Žltý melón has closed on a series A funding round.  Originally launched in 2012, Žltý melón has received a first tranche of around € 1 million with a second forthcoming of about € 2 million upon the completion of specific milestones. Investors include the JEREMIE Fund, managed by Limerock, Hendrick Bremer, a partner at PwC and Roland Berger.  Bremer has joined the management team of  Žltý melón bringing significant financial services horsepower to the company.
Roman Feranec, CEO of Žltý melón, was quoted on the raise;

"After being on the Slovak market for two and a half years, we launched our Series A Investment Round in order to raise capital to accelerate growth and further implementation of our strategic plans, particularly in the areas of product portfolio, services for our clients and territorial expansion. We do see the investment as a confirmation of trust in the innovative business model and our company; it also shows that peer-to-peer lending is perceived positively not only globally, but also in Slovakia."
Feranec previously worked at Accenture and was a member of the Department of Financial Services and Insurance. He has a PhD in international financial markets.  Žltý meló has originated about € 2.5 million in lending since its launch.