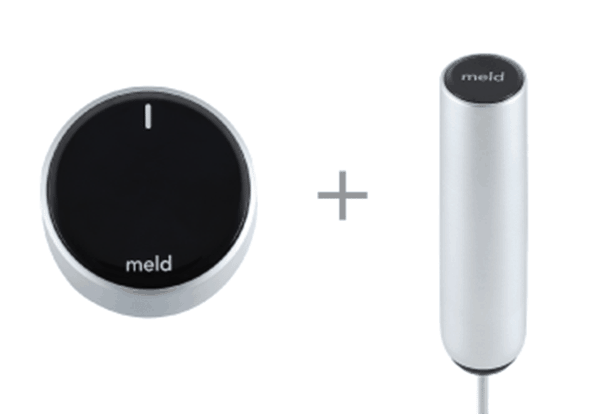 Earlier this spring, Seattle-based stove knob-maker, Meld, took to crowdfunding platform Kickstarter to raise $50,000 for self-titled temperature controlling stovetop knobs.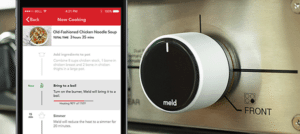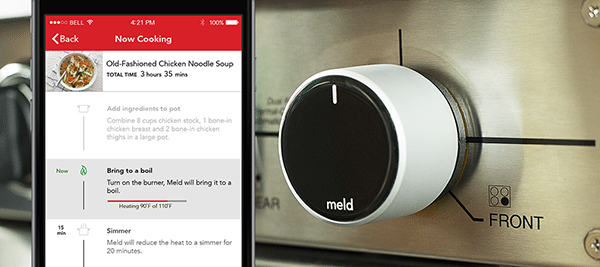 The company, which consists of former Amazon, Pinterest, and RichRelevance employees, revealed that each knob is automated range and attaches to cooktops along with wirelessly communicates with a precision temperature sensor.
By using Meld's iPhone or Android app, the users may monitor the temperature of what they cooking and makes automatic adjustments to the gas or electric range at the touch of their fingertips. Co-founder of Meld, Darren Vengroff previously stated:
"If you test the same pan on different oven ranges and set the temperature to 'medium-high,' you'll see 100-degree variations. 'Medium-high' doesn't mean anything, whereas if you can control temperature precisely to within a degree or so, you can cook all kinds of things beautifully.

"Sous Vide is something not everyone is going to do. The question was, can we actually do something to bring that level of precision to the stovetop and to cooking techniques that normal people use everyday?

"You already have a great source of a lot of heat – you just have no control. That's the missing part. We have this ability to create a device that people will interact with on a near-daily basis, and to me that's really interesting."
During its time on Kickstarter, Meld secured nearly $210,000. Delivery to backers was expected next month. Unfortunately, Meld co-founder Jon Jenkins announced that the knobs would not be delivered to the 1,550 backers afterall. He wrote in the latest update:
"Dear Backers,

We're writing with bittersweet news. Meld is joining forces with another company and we are canceling our Kickstarter campaign. We will refund 100% of all your contributions within the next month.

Not long ago we were approached by a large kitchenware company about the possibility of working together on precision cooking products. As we got to know them it was clear this company shares our vision of helping home cooks create amazing meals by applying science to the art of cooking.

This week we reached an agreement for Meld to join forces with this company. Unfortunately, as part of this agreement we will be canceling our Kickstarter campaign to concentrate our efforts on a new product line. It was a very tough decision but we decided that it wasn't right to ship the Meld Knob + Clip without dedicated long-term support including software and content updates.

The good news is that we will be working on a very similar product as part of the new company. If you liked Meld enough to back us on Kickstarter, I'm confident you will really love what we have coming.

Going forward we are committed to processing refunds starting immediately. The refund will appear on the credit card you used to back us. If your credit card has changed we will be in touch to sort that out. The refund process is, unfortunately, a manual one, but we expect to complete it within a month.

When we announce who acquired us and what our next product is you will be the first to know and will have first access, with preferential pricing.

The entire Meld team sincerely thanks you for your support over the last six months. We could not have gotten this far without you, and we promise you there are great things to come."
While some backers were understanding of the situation, even wishing the company good luck with their latest ventures, others weren't obviously happy about the situation. One by the name of Christina S wrote:
"I am super disappointed. I was really looking forward to this. I have to imagine that the new product is going to cost more than we paid, even with "special" pricing for backers. I've kind of been stewing over this all day, but only just came back to read the comments; I'm glad, because I feel vindicated in my frustration. You should offer the new product for what we paid, not give us refunds. I hope the creators respond to all of this disgruntled feedback."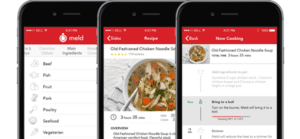 Another named Nita accused the company as being not loyal to backers:
"My sentiments echo what others have already written more eloquently than I can. Your violation of the goodness that crowd sourcing represents is shameless, selfish, and ethically void."
Not only has Meld canceled the project, it will also not be appearing at certain events. GeekWire reported that the company was also scheduled to appear at the GeekWire Summit next week during its "Inventions We Love" segment, but has since canceled due to the acquisition.
Have a crowdfunding offering you'd like to share? Submit an offering for consideration using our Submit a Tip form and we may share it on our site!