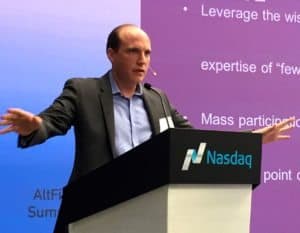 RateSetter has turned a profit for the second year in a row. The peer to peer lending platform states it is the "only major player in the sector to be profitable".  According to the company, 2014-2015 results show a profit of £618,000.  Revenues more than doubled versus year prior, jumping from £5 million to approximately £12.5 million. RateSetter states it lent £300 million in fiscal year 2014, thus leapfrogging other P2P lenders in that year. For 2015, RateSetter has already surpassed £345 million in lending to both business and individuals.  RateSetter will celebrate its 5th anniversary next month.
RateSetter founder and CEO Rhydian Lewis, commented on declaring a profit, as well as a possible IPO;
"We've proved that our model works and consistently delivers great benefits for individual investors. Our focus now is to scale up while continuing to deliver that great value. Our next step will be to take on the mainstream finance industry.  Our ambition is for the rates set on RateSetter to become benchmark money rates for investors."

"We want RateSetter to be a public company – it feels a natural home for a business focused on investors."
RateSetter stated it will commence a "major investment drive" over the next two years. Boosting staff, investing in aggressive marketing while moving into a larger office. The company explained it expected to declare a loss over the next two years as expenses jump. This past March, RateSetter raised £20 million in new capital to help fuel platform growth.