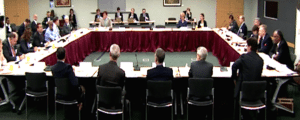 The Advisory Committee on Small & Emerging Companies (ACSEC) convened today (September 23, 2015), submitting their recommendations on three different areas regarding securities regulations.
The three items include:
Modernizing Rule 147 under the Securities Act of 1933 (impacting intrastate investment crowdfunding)
Expanding Simplified Disclosures for Smaller Issuers
Issues Pertaining to the Regulation of Finders and Other Intermediaries in Small Business Capital Formation Transactions
Each recommendation was discussed, some with modification, prior to voting on approval.
While the Commission takes under consideration recommendations forthcoming from ACSEC, there are no rules regarding a formal response nor requirement to abide by recommendations.
See the published draft documents below.
[scribd id=282488566 key=key-V5TLqusGQe8jBLIF1XZx mode=scroll]
[scribd id=282489822 key=key-ayMnurdQcuKsP5IHDyVF mode=scroll]
[scribd id=282490491 key=key-qdOu7Xcsnl9a6KP9NhC2 mode=scroll]