TrackR, a pioneer of the Bluetooth tracker and digital inventory space, has raised $8.7 million in funding for expansion. Foundry Group led the round with participation from Resolute Ventures and several angel investors.
The TrackR team is revolutionizing how people keep track of their personal belongings and helping users locate lost items thousands of times each day," says Brad Feld, Co-Founder of Foundry Group. "We're excited to join the team's quest to automate how we keep track of our valuables, while eliminating the task of remembering where our items are by using new and innovative technology to keep inventory."
The Santa Barbara, California-based startup company of 15, founded in 2009 by Chris Herbert and Christian Smith, aims to automate the process of personal organization and item inventory. TrackR's innovative technologies aim to replace the need to remember "where everything is" by putting user's "mental database" onto a computer or phone.
The company overfunded their crowdfunding goal raising $1,676,369 on Indiegogo to launch TrackR bravo and has since shipped more than a half million units, with plans to launch new technology which streamlines how users inventory their belongings.
"The success of our Indiegogo campaigns were instrumental in learning what aspects of our product customers enjoyed, and solidified our vision of creating a simple way for people to keep track of their belongings," says Chris Herbert, TrackR CEO & Founder. "This round of funding will now allow TrackR to continue dramatically scaling production to keep up with customer demands, expand customer support teams and continue to innovate the personal inventory management space."
TrackR was recently named #155 on the Inc. 500 List of Fastest Growing Companies in the U.S., according to the release. Following the launch of Wallet, sticker and bravo tracking devices via crowdfunding platforms, TrackR made its debut on the Inc. 500 list with 2,541% growth and a total revenue of $2.7 million in 2014. They were also named #14 in the Top Consumer Products & Services category.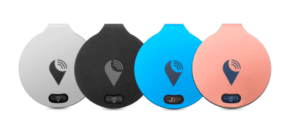 TrackR bravo, priced at $29.99, is the latest product in the line of trackers, claiming to be the world's thinnest tracking device offering a solution to track and quickly locate consumers' items. Bravo takes inventory of users' belongings using a Bluetooth distance indicator to locate missing items. Users may ring bravo from the app using the manual alarm and can also ring their phone, directly from their TrackR bravo. TrackR finds items out of Bluetooth range by using the TrackR Crowd GPS network.  Crowd GPS network is made of thousands of active TrackR users  helping each other locate valuables by automatically pinging the location of lost items to the TrackR network and then back to the original user's phone. TrackR currently offers three different solutions to consumers, bravo ($29.99), sticker ($24.95) and Wallet ($29.95), available online at Target and TheTrackR.com.