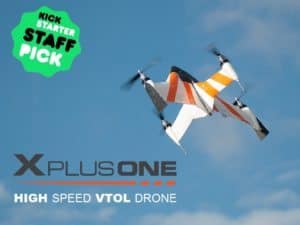 X PlusOne, a drone project launched on Kickstarter in December of 2014, has discovered bigger success on SharkTank as the high-profile investors rushed to back the young company in the episode broadcast last week.
The X PlusOne drone, by 3 person company xCraft, entered a pretty crowded drone market, but differentiated its product by combining the agility of a quad-copter with the speed and flight distance of a plane.  The X PlusOne hybrid drone system demonstrated a product that achieved speeds of 100 km/h and may redefine the segment.  On Kickstarter, a "ready to fly" package cost backers $479 – a pretty competitive price when viewed side by side with other products available today. The Kickstarter staff pick closed at $143,400 backed by 263 contributors. Not a large amount for professional crowdfunding projects but well over the campaign goal.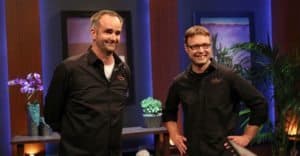 The trip to Shark Tank revealed the X PlusOne cost $400 to make but will soon retail for $1800. The intrigued Sharks were impressed by the fact that creators JD Claridge and Charles Manning had backgrounds in Aerospace Engineering  and tech.  The duo requested $500,000 from the sharks; $250k for scaling the X PlusOne and the rest for scaling their next product the  Phone Drone.
Kevin O'Leary, who usually lowballs first, offered the first investment at $750k  for 25% of the company. Mark Cuban said O'Leary was turning over a new heart and Daymond John stated "and the Grinches heart grew two sizes that day". Then a bit of a bidding war ensued with John offering one million for the same 25%. Lori Greiner offered one million for 20%. Manning countered with a syndicate proposal with all of the Sharks joining in on the deal and the valuation quickly jumped to $10 million (they started at $2.5M) – for a company that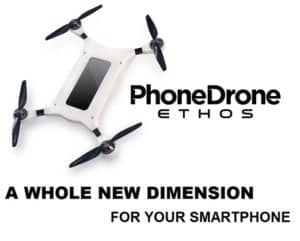 launched on Kickstarter the end of 2014. John capped the valuation at $6 million. Manning and Claridge pitched $1.5 million at a $6 million valuation with each Shark taking 5% of the company.  Cuban, the final holdout on the deal, asked about other outside interested parties who may have pitched to xCraft before.  The entrepreneurs explained they were not too excited about working with traditional VCs and they saw more value in working with the big name Sharks.  Robert Herjavec said VCs are smart – but they don't get their hands dirty like they do.  That sealed the deal.
Xcraft, based in Sandpoint, Idaho, explained in an interview that Shark Tank producers contacted them to be on the show. This is not the first crowdfunded project to be featured on Shark Tank as Kickstarter and Indiegogo have both provided multiple early stage companies to ask for cash from the Sharks.  Expect Shark Tank producers to continue to troll for more TV drama from successfully crowdfunded projects.
Having found crowdfunding success on Kickstarter once, XCraft is at it again.  Last week XCraft launched the Phone Drone and pegged its $100,000 target in just 48 hours. Phone Drone uses your smartphone, both iPhone and Android, as the brain behind the drone.  Recognizing the expensive components of your smartphone can be leveraged to operate a drone, Xcraft has smartly added the quad-copter portion to create a feature rich drone – at a fraction of the price.
With 36 days to go – expect this one to go much higher.
---
Have a crowdfunding offering you'd like to share? Submit an offering for consideration using our Submit a Tip form and we may share it on our site!