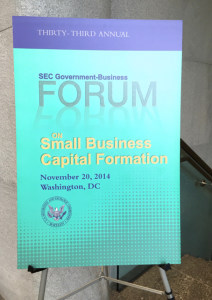 Later this week, on Thursday, the SEC Government-Business Forum on Small Business Capital Formation will take place at SEC headquarters.  An annual affair, the event has grown into a vibrant discussion regarding the challenges of SMEs to gain access to capital and the regulatory challenges which may be altered to improve the SME environment.
The topics that made it on the list this year includes a discussion on Post Jobs Act implementation.  Break-out groups will review; Exempt Securities Offerings, Smaller Reporting Companies Breakout Group and Proposed Amendments to Rules 147/504 (impacting intrastate crowdfunding regulations).
If you are interested in attending, there is still time to register.  The list of speakers participating on the panels is listed below.
---
Agenda

9:00 a.m. Call to Order
Sebastian Gomez Abero, Chief, Office of Small Business Policy
SEC Division of Corporation Finance

Introductions of Chair and Commissioners
Keith F. Higgins, Director, SEC Division of Corporation Finance

Remarks
Chair Mary Jo White
Commissioner Luis A. Aguilar
Commissioner Michael S. Piwowar

9:30 a.m. Exempt Offerings — Post JOBS Act Implementation

Moderators:
Keith F. Higgins, Director, SEC Division of Corporation Finance
Sebastian Gomez Abero, Chief, Office of Small Business Policy, SEC Division of Corporation Finance

Panelists:
Vladimir I. Ivanov, Senior Financial Economist, Office of Corporate Finance, SEC Division of Economic and Risk Analysis
Sara Hanks, Co-Founder and CEO at CrowdCheck, Alexandria, Va
Anya Coverman, Deputy Director of Policy, North American Securities Administrators Association
Kevin Laws, Chief Operating Officer, AngelList
A. Heath Abshure, Arkansas Securities Commissioner, Little Rock, Arkansas
Chris Weekes, Managing Director, Capital Markets, Cowen and Co.
Rick A. Fleming, Investor Advocate, SEC Office of the Investor Advocate

11:10 a.m. Break

11:20 a.m. Introduction of Commissioner Stein
Keith F. Higgins, Director, SEC Division of Corporation Finance

Remarks
Commissioner Kara M. Stein

11:30 a.m.

Registered Offerings — Post JOBS Act ImplementationModerators:
Keith F. Higgins, Director, SEC Division of Corporation Finance
Sebastian Gomez Abero, Chief, Office of Small Business Policy, SEC Division of Corporation Finance

Panelists:
Spencer G. Feldman, Olshan Frome Wolosky, LLP, New York, New York
William D. Waddill, Senior Vice President and Chief Financial Officer, Calithera Biosciences, Inc.
Prof. Michael D. Guttentag, Loyola Law School, Los Angeles, CA

12:30 p.m. Lunch Break

2:00 p.m. Breakout Groups Assemble to Develop Recommendations

Exempt Securities Offerings Breakout Group
Moderator:
Gregory C. Yadley, Partner, Shumaker, Loop & Kendrick, LLP, Tampa, Florida

Smaller Reporting Companies Breakout Group
Moderator:
Spencer G. Feldman, Olshan Frome Wolosky, LLP, New York, New York

Proposed Amendments to Rules 147/504 Breakout Group
Moderator:
Sara Hanks, Co-Founder and CEO at CrowdCheck, Alexandria, Va

3:15 p.m. Break

3:30 p.m. Breakout Group Develop Recommendations (continued)

5:00 p.m. Plenary Session to Develop Next Steps

Moderators:

Sebastian Gomez Abero, Chief, Office of Small Business Policy, SEC Division of Corporation Finance
Gregory C. Yadley, Partner, Shumaker, Loop & Kendrick, LLP, Tampa, Florida

5:30 p.m. Networking Reception at Nearby Restaurant

Sponsored Links by DQ Promote