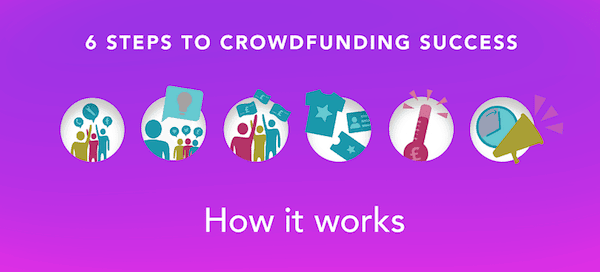 Ready to offer up key advice on using the crowdfunding method, crowdfunding platform Crowdfunder UK announced it is launching a 7-week feature known as How To Crowdfund.
As part of the first installment, Crowdfunder UK shared six steps to crowdfunding success:
"Crowdfunding is a way to raise money, awareness and support for a project, from the people around you. It's means of funding that allows individuals to make their ideas a reality with the power of the crowd. Crowdfunding enables people with great ideas to raise the money they need, in return for 'rewards'. The public can back your idea with pledges of money and project owners can 'thank' their backers with rewards that reflect the money contributed.

"While it may sound easy to crowdfund for your website, it does require a little planning, forethought & work on your behalf. Investors aren't just going to throw their money at you because you think you have a good concept. It's up to you to PROVE that your project is worth it & why.

"The most common type of crowdfunding fundraising is where donations are sought in return for special rewards. You put together a campaign to raise money for your project (i.e. Getting a new vehicle for your business). You highlight your strengths, your goals & objectives. Appeal to your possible backers by providing reasons why this project is important to your business, how it may help others in your community, and help users in general (i.e. A new vehicle will enable you to carry more tools in your trade).

"You offer rewards in return for pledges (i.e. A 'Thank You' certificate for a £5 pledge, or a discount voucher of a nominated amount for a £50 pledge). You set a reasonable goal you want to reach, and a nominated time-frame you want to reach it in. Then you let everyone you know about your campaign, get them to spread it around and you further spread it around, to as many people as possible."
Noting what's involved when creating a crowdfunding initiative, Crowdfunder UK revealed the following:
Create:
"First you create a simple page on our site, explaining your idea. Appeal to a wide audience. The presentation of your product while crowdfunding is very important. Explain WHY you need their support. It is just as important as the product you are pitching. Your story has to touch people, so you need to be able to express very clearly why what you are doing is so significant. Why is having a new car important to you?"
Share:

"Next, you tell all the people you know – and some of them share it with their friends in turn… and so on. An often overlooked part of crowdfunding is spreading the word. Reach out to people you know before the launch. Most project's support will come from the people you know. Advise friends and friends of friends about your crowdfunding campaign. Use social networks, get others to spread the word for you too."

Pledging:
"All the while, people who believe in your idea pledge money in return for a reward that they'll receive if your project succeeds. Award your donors with reduced prices & reward your campaign backers by giving them a discounted price below the manufacturer's suggested retail price (MSRP). It is essential to know how many units you need to sell to reach your crowdfunding goal. This will put your goal in perspective."
Crowdfunding benefits include:
Validation:
"Crowdfunding validates your idea and gives you confidence, it proves that people like your idea and will pay or contribute to make it happen."
Funding:"You can unlock other funding for charities and community groups this maybe grants, for businesses it could be loans, investors or a pre-cursor to an equity crowdfunding campaign."
Advocates:"Crowdfunding is for life, not just for fundraising. The people who support you and your great idea become a part of your journey and make incredible ambassadors for your project in the future."
Marketing:

"When you create and launch your project you have to really think about how you are going to market your idea. So Crowdfunders learn vital skills when fundraising – they learn how to become superstar marketeers too!"
Have a crowdfunding offering you'd like to share? Submit an offering for consideration using our Submit a Tip form and we may share it on our site!