Following its unsuccessful crowdfunding campaign on Pozible (which secured $324,511 out of its $3,275,000 goal), Australia's Legion Music Festival has decided to cancel this year's event. 
The organizers stated:
"We had hoped to let all our Pozible supporters know 24 hours before everyone else so that they had a chance to be the first to know but, given the current circumstances, we were forced to announce the below today.

"Following extended discussions with industry partners, bands and the Legion Fan council, John Sankey and the Legion Music Fest team have made the decision to change the dates of the debut festival to January 2017 to coincide with the Australia Day long weekend."
Sankey stated:
"We did everything in our power to make Legion happen this year but, given a couple of hurdles that we've had to faced over the last few weeks, we made the positive decision that it's in everyone's best interest that we do this in a way that's as sustainable as possible."

"Not to mention that the Australia Day weekend has always been home to Australia's most successful and long running festivals and we love the idea of honouring that memory and establishing something that can stand the test of time."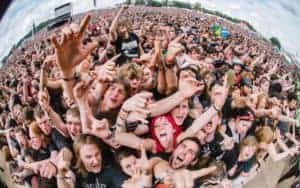 As part of the 2017 preparation, the Legion Music Festival's Mark Spillane has relaunched the Pozible initiative. He shared
"We had very specific reasons for launching this as a crowd funding campaign, rather than just putting tickets on sale off the bat without knowing 100% that it would go ahead. It's a brand new model that was always going to take a bit of time to explain to the industry but we knew there was no way we could ask people to buy tickets, then change the goal posts if we have any chance of making this sustainable."
Unfortunately for the Legion Music Festival, this may be the last time that it will be able to pitch on Pozible. According to Music Feeds, the crowdfunding platform has reportedly stated it will 'definitely not' allow the event to shift pledges again should the 2017 campaign not reach its goal.
Pozible's general manager for Singapore and Malaysia, Claire Merquita explained the platform has "never extend a campaign just to help it meets its target." Instead, the choice to allow Legion to shift their pledges was made over "whether it would best serve the supporters to make them each have to repledge, or allow them to transfer their pledge over if they wanted to." She then added:
"Since the update to that effect was published yesterday, we had less than 5 cancelations to pledges, which tells us we made the right call. Supporters are also free to cancel their pledge at any time up until the target is reached – no money at all has changed hands.

"When Legion asked if we could extend the campaign, we said no, and encouraged them to instead start a new one. The conditions of the campaign had changed drastically – the event they had asked people to pledge to was now delayed by almost a year.

"At the same time, they had 1300 supporters who had made it very clear to us that they were determined to make this happen."
The campaign has less than 60 days to capture its $3.2 million goal. If achieved, the festival will proceed in 2017 and include 3 major east coast open air shows, plus, as planned two mini-festival club shows in Perth and Adelaide.
JAN 21, 2017
PERTH
JAN 22, 2017
ADELAIDE
JAN 26, 2017
MELBOURNE
JAN 28, 2017
SYDNEY
JAN 29, 2017
BRISBANE
Have a crowdfunding offering you'd like to share? Submit an offering for consideration using our Submit a Tip form and we may share it on our site!