With Indiegogo success Miles Ahead set to hit theaters this spring, actor Don Cheadle sat down with Entertainment Weekly to discuss his role as Miles Davis.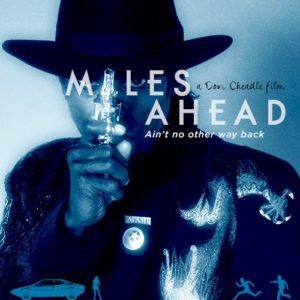 While discussing his history with Miles Davis' music, Cheadle stated:
"He was someone that my parents listened to. The music was in the house since I can remember, but I think at 10, when I started actually playing music, playing sax, is probably when I started paying more close attention to the kind of music and the construction of the music and the composition and all of those aspects of it."
Noting what made him decide to take on the role and direct the file, Don explained:
"When I met with [Miles'] family, I told them I wanted to do something that wasn't like I had seen before, and I had a take on the movie, that if I was going to play him, that it had to be as creative and different, that if it wasn't as aspirational as he was, then I wasn't really that interested. And before I got to my house after that meeting, it kind of came to me that that would be hard for anyone else possibly to see it the same way that I was seeing it, so if I was going to do it, I'd probably have to direct it. And as I was calling them, they were kind of calling me to say the same thing."
Cheadle went on to discuss why he decided to start the movie in 1979:
"Just the fact that he wasn't playing. The fact that he hadn't played for five years, up to that point, and in a way, was either chomping at the bit to figure out what to say again, if to say again, or he was going down towards death very quickly. He was standing on that knife's edge at that point, and I don't think he even know which way it was gonna go. So for us, when we got to the period in all the research about how Miles didn't play for five years, we were like, 'What?' [Laughs] That was the part that was the most interesting from a human being standpoint to me. Musically and what he did with his art form was amazing to me all the time, for the most part. But for me, as a human and an artist and someone who's a creative person, what happens when you just stop for five years? That's why we picked that moment to sort of be the departure point: him on the verge of talking again, basically."
In regards to any worries or fears he had for the role, Don added:
"Well, I don't know about fear. You're out there in front of everybody while you're trying to figure it out. You're not doing it in your garage. You're doing it in front of people, so I guess there's a vulnerability, definitely. But I think that's when you're supposed to know, or recognize, 'Oh, that's what I'm supposed to be' Because I'm not in my comfort zone. I'm reaching for something, and when you reach for something, you stumble. You don't actually get to get there cleanly, which is another thing I loved about Miles. The story goes that if he heard you rehearsing something, if you were guys doing a date and you were in your hotel, and he heard you rehearsing your solo or whatever, and you came down on stage and performed that same solo, you were out, you were done with the band. Because, as Herbie [Hancock] said, 'Miles paid us to rehearse in front of people.'

"That, to me, is like the most respectful thing you can do. It's like, I'm going to show you all of the bumps and bruises along the way, and how we get to something. I'm not going to come out here and make sure that we're totally polished and everything's slick and perfect. That's not what he wanted to do. I feel like, when it's the best, that's how you're supposed to feel. Like, you're reaching, that you're always trying to figure it out. And if you're always reaching, then yeah, you're always going to feel vulnerable. I don't know, fear may be another way to say it, but you're always going to feel you're exposed."
Miles Ahead will premiere in theaters on April 1st.
Have a crowdfunding offering you'd like to share? Submit an offering for consideration using our Submit a Tip form and we may share it on our site!