Earlier this month, 90's hip-hop group, De La Soul, sat down with Rolling Stone to discuss the progress of their Kickstarter album, And The Anonymous Nobodies.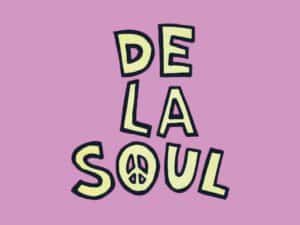 As previously reported, De La Soul launched a crowdfunding campaign on Kickstarter to raise funds for its new and highly anticipated album. While on the portal, the musicians scored over $600,000. The new album will release on April 29th.
During the interview, Kelvin "Posdnous" Mercer revealed the group's thoughts on using crowdfunding for the album.
"I don't want to sit here and say it's another 3 Feet High and Rising, I would never say that. But that element of not knowing what you're doing, like, it felt like 3 Feet High and Rising. Like, we walked in, we didn't know the rules."
Bandmate Dave Jolicoeur commented:
"The idea of signing [to] a label was a bit scary. We've been, obviously, on a label for about 20 years or so and then got moved and kicked around in the whole WEA system, and then ended up on Sanctuary. They really didn't support that record [2004's The Grind Date]. So just the idea of putting our project and what we create in someone else's hands … is a scary thing."
While opening up about not having a label for the album, Posdnous explained:
"We love the freedom. But with that freedom and trying to run this, there's a lot of responsibility that goes into it. Because, you know, sometimes, you just wanna be, like, 'Alright, look, but today I need to write. Yo, man. Like, we've been on the phone for two hours. I gotta go!' If you take the time, and put on your big boy pants and realize if I just put in a little bit of work to get this to our fans and listeners who want to hear good music, they will be there. … You could either go into your minibar and pay $10 for the little Pringles or just walk right outside to the bodega and get it for a dollar."
In regards to fitting into the hip hop industry in 2016, Posdnous added:
"I think we're comfortable in just feeling that we don't fit. … I think sometimes, the object that is all the way over there. you almost want to pay more attention, because the object's here, everyone's there. It's funny… We even at one point let Nas hear a bunch of tracks. And it was just dope how he was like, 'Yo man, this is like some avant-garde sh*t.'"
Have a crowdfunding offering you'd like to share? Submit an offering for consideration using our Submit a Tip form and we may share it on our site!