DANAdidik has launched Indonesia's first peer to peer lending platform for micro student loans. The new platform was described as a step to provide an equal education opportunity for Indonesian students. DANAdidik says it facilitates: (i) students that are looking for education loan and (ii) sponsors or lenders that want to lend student loan. DANAdidik is designed to act as a social alternative investment that can provide return and self-recycle.
According to DANAdidik's AngelList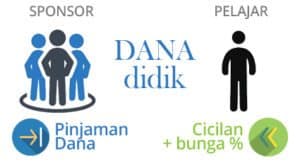 profile, the site soft-launched in mid-2015 and has registered over 1500 applications to date. The creators state that Indonesian financial institutions are not structured to efficiently provide student loans.  DANAdidik want to offer long term loans with repayment schedules that start only following graduation.
DANAdidik's mission is education equality in Indonesia. "Education is one of the most productive investment a person can make," said Dipo Ramli, CEO Danadidik.