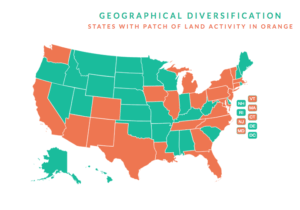 Real estate crowdfunding platform Patch of Land has updated their product offerings with a mid-term loan option.  The new financing vehicle is designed to provide financing for 2 to 5 years with rates commencing at 6%. Financing is for both purchases and refis. Previously the property funding platform offered shorter-term loans.  Patch of Land provides finance for loans from $100,000 to $5 million. Borrowers may be approved in under 7 days.
According to statistics on the Patch of Land site, the company has funded just under $100 million in real estate loans having returned $25 million to investors. The average loan to cost is about 68% with the average size of about $450,000.  To date, Patch of Land has not reported any loss of principle.
Patch of Land launched as a fix and flip funding platform but has since moved into larger real estates deals. The company raised over $23 million from investors last year in April to help fuel company growth. At that time they had funded 45 loans. Today that number has increased to 217 funded loans. This past February Patch of Land announced   that an "East coast credit fund" had committed $250 million towards loans listed on the site.