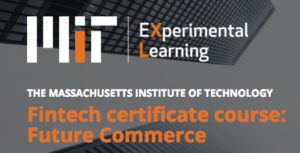 The Massachusetts Institute of Technology (MIT) has decided to offer a "Fintech certificate course" labeled "Future Commerce".  The promotional page notes that venture capital investment into Fintech has jumped to over 600%. Probably more interesting is the fact that Fintech is quickly becoming the norm and not the exception as all forms of finance quickly move online. MIT has produced many graduates that are on the cutting edge of agile Fintech startups so it makes sense that one of the leading educational establishments in the US offers courses that focus on the future and not just the past.
MIT is not the first university to offer a course targeting internet finance. There are many programs that offer coursework on entrepreneurship that are most certainly diving into the Fintech space. USC's Marshall School of Business launched a dedicated class on the diverse, emerging Fintech business models that covered direct lending, equity crowdfunding, blockchain and more.
a emerging business models, direct lending, equity crowdfunding, blockchain and more. The coursework will include a special appearance by a SoFi co-founder, the company that raised the single largest Fintech investment ever. Part of the allure of the MIT certificate is you can do it all online starting this June 6th.  If you (or your company) is willing to kick in the $2300 and dedicate 12 weeks of your time you may want to check out their information here.