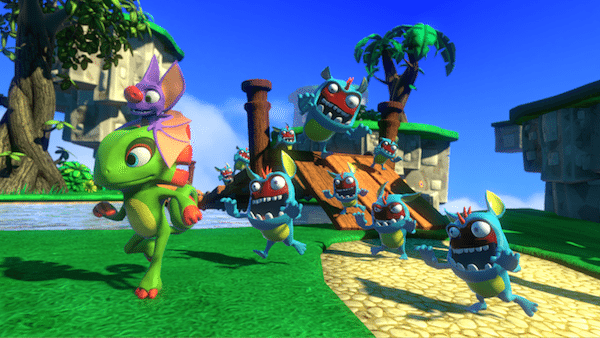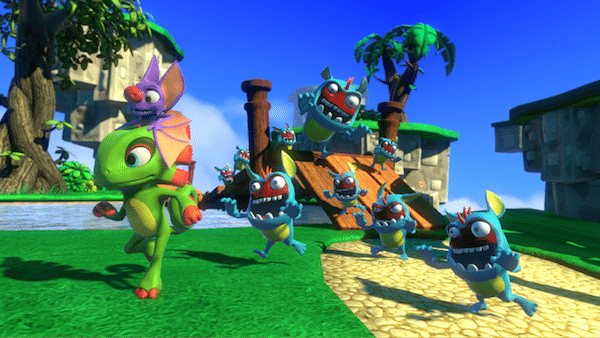 With just a few months until Kickstarter success Yooka Laylee is set to be delivered to backes, the creators of the highly successful game, Playtonic Games, announced some new details, which included info on the villains and the demo launch of standalone gameplay experience, The Toybox.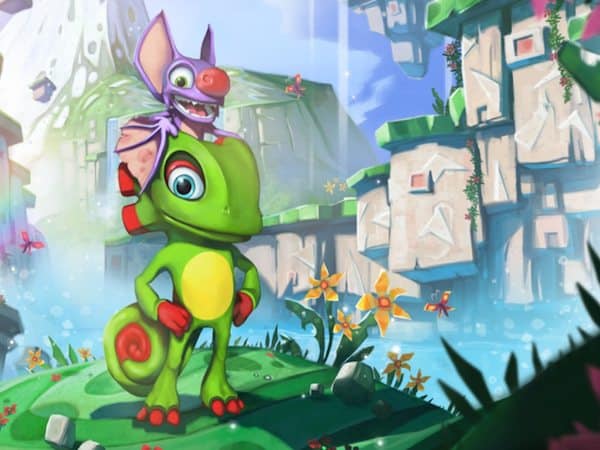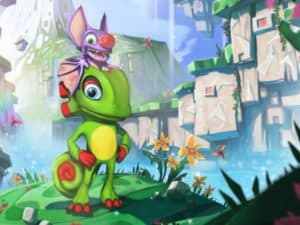 Yooka-Laylee is an all-new 3D platforming adventure for consoles and PC. During its run on the crowdfunding giant's platform, the video game successfully captured £2,090,104 from 73,206 backers. Playtonic Games launched the funding initiative with the intention to raise only $175,000 for 90's Banjo-Kazooie successor and within only a matter of days, the project not only surpassed it initial goal, it secured $1.3M.
In the update, the Playtonic Games crew revealed info about the game's head villain, Capital B:
"Yooka and Laylee's adventure will take them deep inside the work halls of a baneful business, as the buddy-duo seek out the magical Pagies required to explore the mysterious Grand Tomes. The dexterous pair will seek to unlock the ancient secrets of these bewitching books, as they battle to thwart corporate creep Capital B and his devious scheme to absorb all of the world's literature… and convert them into pure profit.

"Throughout their adventure Yooka and Laylee will meet (or beat) a huge cast of memorable characters brought to life by the art and audio teams behind legendary platform games. This month we'll be discussing a pair of new supporting characters destined to join the Playtonic Universe; the hapless, multi-limbed scientist Dr. Puzz and her traitorous former colleague Dr. Quack. The latter is a ruthless, exosuit-wearing fowl, who's making the best of a bad situation under the corporate rule of Capital B.
"Yooka-Laylee will introduce a roster of shiny collectibles with gameplay progression at their core (as well as other, more valuable materials). Tasty Butterfly Energy will refill the player's health and the brand new power meter, which is designed to empower fun and challenging platforming gameplay while avoiding the all-too-occasional tedium of resource management. In their adventure through Capital B's corporate lair, Yooka and Laylee will explore land, air and sea in search of Pagies and their power to unlock – and expand – the magical Grand Tomes held captive in Hivory Towers."
The Yooka Laylee creators then went on share discuss the launch of The Toybox:
"The Toybox is coming – and we're happy to finally confirm that the standalone gameplay experience will be available in July for Kickstarter backers who opted for appropriate tiers. So why has it taken so long? Quite simply, our plans for the Toybox have expanded beyond the web-based, single-room play thing we originally planned and it's now a much more significant chunk of playable content.
"As promised in our Kickstarter campaign, the Toybox isn't a traditional 'demo', but a self-contained, spoiler-free sandbox designed to give Yooka-Laylee backers a taste of the platforming to come in the final game.There are plenty moves to try, custom-built props to play with, secrets to discover and yes, shiny collectibles to hunt out. We appreciate your patience and hope you agree the wait was worthwhile when you're jumping around in our sandbox in a number of weeks' time."
Yooka Laylee is set to be delivered this October.

Have a crowdfunding offering you'd like to share? Submit an offering for consideration using our Submit a Tip form and we may share it on our site!

Sponsored Links by DQ Promote