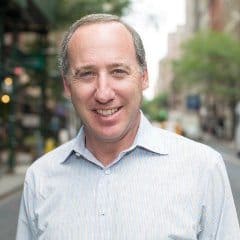 Long-time Orchard Senior Advisor Bill Ullman has been appointed Chief Commercial Officer of the Fintech firm. Ullman has been providing his insight and perspective to Orchard since the firm was founded in 2013.  Ullman, reporting directly to Orchard CEO Matt Burton, will now direct global revenue generation and strategic management of the sales, client services and marketing teams. Orchard states he will also oversee the commercial strategy of Orchard's products, including Orchard's forthcoming online loan marketplace.
Ullman was founder and Principle of Right Wall Capital Management for 10 over ten years. Prior to that Ullman spent time at Bear Stearns and Merrill Lynch. He currently serves on the Board of Directors of Van Eck Associates Corporation and the Capital Returns Fund.
Matt Burton said having Ullman as an executive "essential" to his company.
"Bill has already proven his value and expertise as one of our senior advisors. He not only understands our offerings and the industry, but also has exceptional experience and knowledge within the financial sector. We are confident that his management skills will propel Orchard forward and ensure the highest level of customer success."
Orchard sits at the epicenter of institutional money and online lenders. The company has created a robust platform of digital pipes that funnels investor money into hundreds of different online lending platforms. In many ways, Orchard is the crucial variable for the dramatic sector growth.
The appointment of Ullman comes at a challenging time for the online lending industry as recent issues regarding access to lending capital and regulatory questions have slowed US platform growth.