We've hit the one month mark since Title III became effective on May 16, 2016, and are just starting to see the first data points of this new industry. Here are some juicy statistics:
---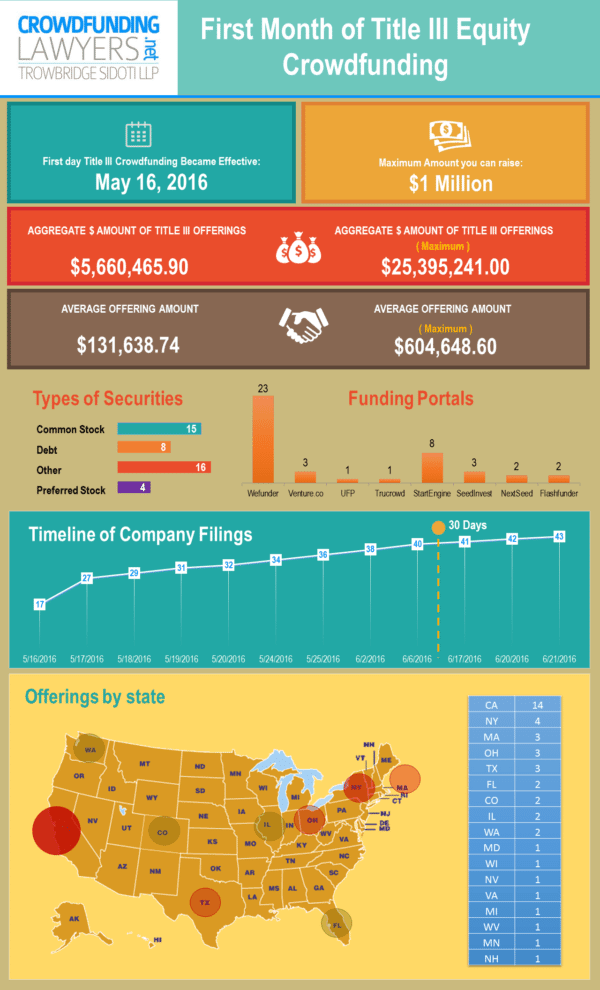 ---
In the first 30 days of the filing's becoming effective, 40 companies have become issuers using Title III (as of the writing of this article, that number has increased to 43 companies). Out of the gate, 27 companies were lined up and ready to launch their crowdfunding campaign.
As of June 13, 2016, over $2 million has been invested in Title III offerings, or nearly $65,000 per day.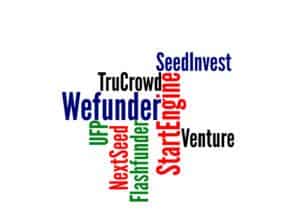 The type of companies running campaigns has spanned a broad array of both types of businesses and demographic of the founder. Although there are more equity campaigns than debt campaigns at the moment, of the two most successful campaigns (as measured by investment commitments v. their minimum goal), one is a debt offering (Hops and Grain Production LLC) and the other is an equity offering (Beta Bionics, Inc.).
It's also interesting to note that campaigns relating to alcohol and alcohol production tend to be doing quite well. There are currently at least three alcohol-related companies with active Title III offerings, and they have among the highest dollar amount of commitments—although, note that investment commitment does not necessarily translate into investment dollars; some investors may commit but may pull out of a deal before closing the deal.
One of the most interesting data points was the distribution of capital across the United States. Traditionally, venture capital funds have come from New York and California; crowdfunding presents the opportunity to disperse more capital to more areas of the country.
---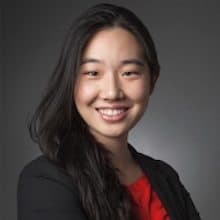 Amy Wan, Esq., CIPP/US is a Partner with CrowdfundingLawyers.net where she practices crowdfunding law. Formerly, she was General Counsel at Patch of Land, a real estate marketplace lending platform. While there, Amy pioneered the industry's first payment dependent note that is secured pursuant to an indenture trustee and designed to be bankruptcy remote, and advised the company on its Series A funding round. In recognition her work at Patch, she was named as a Finalist for the Corporate Counsel of the Year Award 2015 by LA Business Journal. Amy also brings extensive experience in legal innovation and rethinking the delivery of legal services. She is the founder and co-organized of Legal Hackers LA, and was named one of the one of ten women to watch in legal technology by the American Bar Association Journal in 2014. Prior to joining Patch of Land, Amy worked in enforcement and compliance at the U.S. Department of Commerce, where she represented the United States at the WTO and participated in free trade agreement negotiations on regulatory coherence and technical barriers to trade. Amy also spent time at the U.S. Department of State and U.S. Department of Transportation as a Presidential Management Fellow. She holds an LL.M. in Public International Law from the London School of Economics and Political Science, a JD from the University of Southern California Gould School of Law, and a BA in Biological Sciences from the University of Southern California.
Have a crowdfunding offering you'd like to share? Submit an offering for consideration using our Submit a Tip form and we may share it on our site!