Nearly two and a half years after successfully securing over $1.2 million through Indiegogo, CEO of Airtame, Jonas Gyalokay, shared details about the company's progress and development since the huge funding round.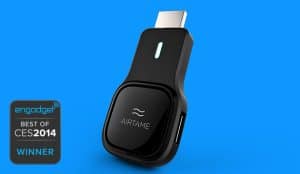 As previously reported, Airtame is hardware that was pitched as wireless HDMI for everyone – everywhere.  The simple concept of pairing various devices to mirror screens across virtually all platforms caught a wave of popular support.  The campaign on Indiegogo original sought a goal of raising $160,000 but closed over $1.2 million – a European record at that time. Backers topped 12,000 at the close. Airtame went on to continue funding leveraging Indiegogo's forever funding program. Last year, the Danish startup received $1.4 million through a seed financing round, which was led by SEED Capital and Libratone founder Tommy Andersen. It also won Startup of the Year at CES in Las Vegas in 2014.
While revealing how things have been going for Airtame since the campaign's closing, Gyalokay stated:
"Since the Indiegogo funding, we have experienced many entrepreneurs' biggest dreams. At the same time, we have also faced some of the biggest challenges that you can face in business. Whatever we have faced, our team has approached the challenges with determination and in good spirits and has put their blood, sweat, and love into making this company work. It's been an honor to experience. The crowdfunding brought a lot of good things along with it. Especially 'free' marketing and sales. Everybody wrote about us. Everybody wanted a piece of the cake. All before we had faced reality."
Jonas also revealed the company's victories and challenges, which are listed below: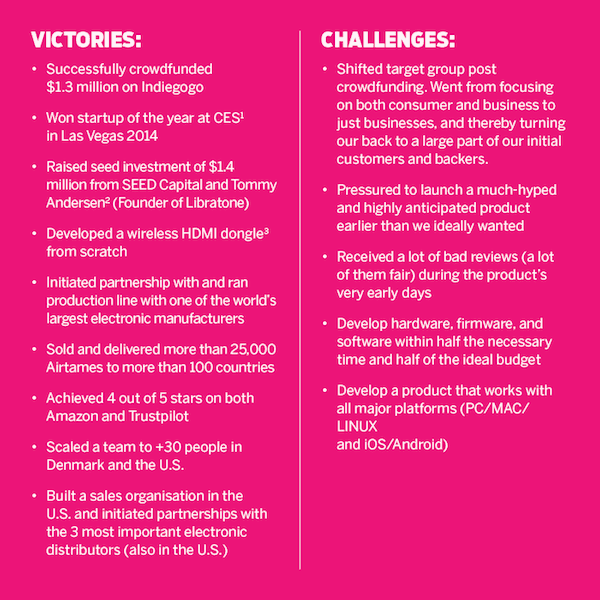 Also noting the importance of listening to customers, Gyalokay explained:
"Looking back at what we perceive as the major victories that we accomplished, it is interesting to see the mutual dependency that exists between victories and challenges. A good example is the many bad reviews we initially received (around June 2015). Our developers and customer service got flushed by mails and requests. They have had to work extremely hard during the last 6 months to catch up and respond to all feedback and ideas received.

"Our developers were under immense time pressure when developing the Airtame dongle. Features had to be prioritized. Some short cuts had to be chosen. All the while, it was very important to do things the right way with the long term in mind.

"As expected, the product we released, which was able to do less than what was stated during the crowdfunding campaign, raked in hundreds of emails with reminders and requests for further functionality. On top of that, we started seeing unexpected use cases by creative users. However, challenges were expected. We're glad to say, our firmware and software are now running on a very solid and user-friendly level."
In regards to one piece of advice that he would offer to his younger self, Jonas added:
"I would tell myself that a brand is the sum of every experience a customer has with your company, and a strong brand will always generate long-term growth and revenue. It's important to think about the entire customer lifecycle and relentlessly improve the interactions customers have with your company."
Have a crowdfunding offering you'd like to share? Submit an offering for consideration using our Submit a Tip form and we may share it on our site!