"Traditional whiskey can take 6 to 12 years to passively age in a barrel yet emerging markets are creating shortages that established distilleries simply can't manage. With disruptive technology, our process uses pressure variations and oxygenation that reduces maturation time to less than 24 hours," stated Cleveland Whiskey CEO Tom Lix. "We're also developing new and different flavor profiles with transformative woods like black cherry, apple and hickory that are winning Gold Medals around the world. The industry isn't happy."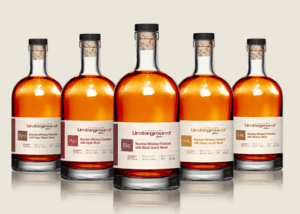 One of the first Reg CF investment crowdfunding offers to list following the launch date on 16 May, Cleveland Whiskey is calling the shots on WeFunder, having already tapped over $295,687 from over 500 investors who now own the Radically Different t-shirt $250K perk.  The minimum? That was nearly $200K ago. Cleveland is Believeland, readers. 93-89. Cleveland Whiskey has been thriving, even prior to the curse's recent end.  A shot for Cleveland.
According to Cleveland Whiskey's Wefunder crowdfunding report,  Cleveland Whiskey had raised a total of $2.23 million from 78 investors. The new funding will be used to grow the business, expand distribution and hopefully become a major player in the $25 billion whiskey market. To date over 166,857 Cleveland Whiskey bottles have been sold in 12 states and 6 countries.
The boutique distillery use of technology to create craft its Bourbon whiskey has created quite a stir, recently winning a series of gold medals in industry competitions and named Whiskey Innovator of the Year at the 2016 Berlin International Spirits Competition.
"We're proud the industry is recognizing both our innovation and the unique natural flavors we're bringing to market, using a series of truly transformative woods such as black cherry, sugar maple, hickory and apple," added Lix. "No sugar, no syrup, no artificial flavor or color. All the flavor comes from the wood."
The company seeks to minimize the amount of time it takes to age Bourbon – typically 6 years and up – to just a few days by matching the aging process by accelerating the pressure / temperature process to "draw flavor out of wood." According to information published by Cleveland Whiskey, in a blind taste test of 3600 individuals, 54% of tasters preferred their whiskey over well established brand Knob Creek. Former campaign details and financial information, please click here.
Have a crowdfunding offering you'd like to share? Submit an offering for consideration using our Submit a Tip form and we may share it on our site!