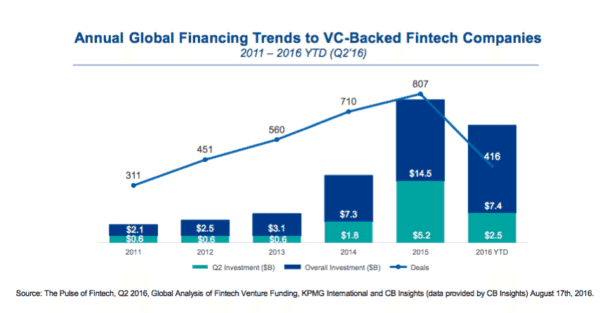 KPMG / CB Fintech Pulse report is out on Fintech and according to the authors overall Fintech investment dipped in Q2. While Asia and Europe saw VC-backed Fintech deals remain nearly level, North American deals dipped versus same quarter last year and prior quarter.
The findings indicate that deal activity in North American drooped to a 5 quarter low going from 130 deals in Q1 to 97 deals in Q2. Deal activity dropped 26% in Q2 2016 versus same quarter last year. If you want to get more granular, California held the Fintech crown beating New York funding by 200% in Q2. Median deal size in North America stood at $4.6 million.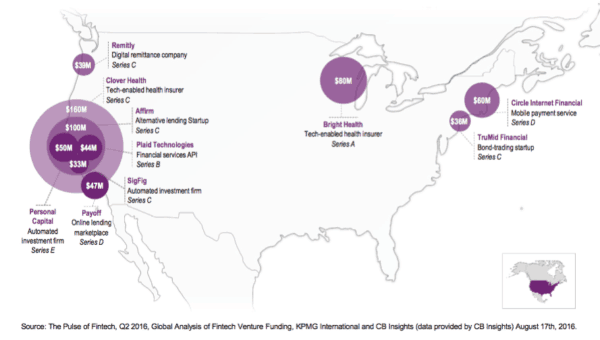 Other findings of note during the quarter:
Europe registered $369 million from 43 deals
Germany topped the UK for Fintech funding by more than 80%
Asian Fintech hit $772 million dominated by China.
North America delivered $1.3 billion from 97 deals (over a billion less than Q2 2015)
This was a decline from Q1 where $2.6 billion in Fintech investment was registered
Asia is set to have a record year in Fintech investment
Total Fintech investment stands at about $9.4 billion
Median early stage (seed / A) stood at $3 million
Fintech mega rounds of $50 million plus stayed level in Asia, declined in North America, Europe "draws a blank"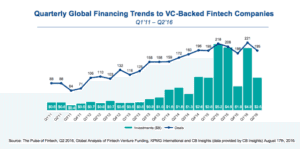 Despite the decline in Q2, the authors are of the opinion the future is positive. Opportunities are ascendant in blockchain, Insurtech and elsewhere. Insurance specifically is "ripe for disruption" as consumers are frustrated with existing services and technology is poised to solve many of traditional insurance challenges.
The largest deals of 2016 (so far) include Lu.com at $1.216 billion and JD Finance at $1.01 billion. Both in China (5 out of the top 10 were from China). Number three was Oscar Health Insurance at $400 million in the US.
Fintech startups are innovating faster than regulators can adapt. No surprise. Jan Reinmueller in Singapore predicted a growing number of countries will embrace the Sandbox approach as created by the FCA in the UK.
[scribd id=321491841 key=key-wVLDI75q07c4xKPgHa4W mode=scroll]