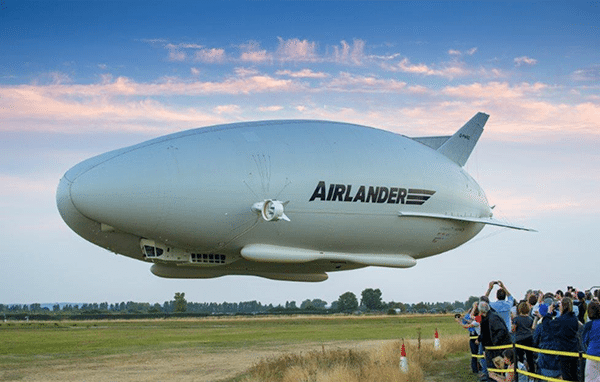 Following Airlander 10's first flight on Wednesday (August 17th), Hybrid Air Vehicles revealed more details about its highly-anticipated aircraft's maiden voyage.
Last year, Hybrid Air Vehicles debuted its first campaign on equity crowdfunding platform Crowdcube to raise £2 million for the Airlander 10. During the round, the company successfully raised 2.1 million. It returned to the crowdfunding platform nearly one year later and raised an additional £1.2 million. The Airlander can also reach speeds of 100 mph, propelled by its wing-shaped design, four engines and the 38,000 m3 of helium in its hull.
Just after the Airlander 10's take off, Hybrid Air Vehicles reported:
"Airlander 10 has successfully completed its first flight. All objectives of the planned flight were accomplished and the aircraft is now safely back at its masting site. Airlander 10 took off from the historic Cardington Airfield in Bedfordshire, England at approximately 19:45 on Wednesday 17th of August, after a short flight it landed at 20:00, before dark. The two Test Pilots were ecstatic about the flight and the flight performance of Airlander during its time in the air."
Chief test pilot Dave Burns commented on his Airlander 10 experience:
"It was privilege to fly the Airlander for the first time and it flew wonderfully. I'm really excited about getting it airborne. It flew like a dream."
The company also shared:
"A confirmatory Pre-flight test began at 0900 this morning and once Technical Director Mike Durham, Chief Test Pilot David Burns and Ground Operations Chief Alex Travell were all in agreement, clearance was granted for First Flight to commence. These three have been working together for almost thirty years, which illustrates the depth of experience and know-how within Hybrid Air Vehicles. The four massive but quiet engines were started approximately 30 minutes before takeoff. Once airborne, Chief Test Pilot David Burns, accompanied by Test Pilot Simon Davies, flew the majestic Airlander within a 6 mile (5 nautical mile) area around Cardington Airfield, just to the south of Bedford, in England. Airlander climbed to a height of 500ft and reached a maximum speed of 35 knots. Due to a later than anticipated take-off time the Airlander was limited to a 19 minute flight so we could land safely before darkness fell."
Hybrid Air Vehicles went on to add that the Airlander 10 is already being used in the UK Government's "GREAT Britain" campaign to highlight the strength of the aerospace sector and the innovation in engineering that the country is capable of creating:
"The next step is to ensure the UK Government runs a trial in order to demonstrate the potential of this amazing aircraft to the world and secure the lucrative exports, and grow further jobs in Bedfordshire and in the supply chain across the UK (80% of Airlander's supply chain is British). This will help ensure the £6m of UK Government grants received thus far lead to orders. Hybrid Air Vehicles Ltd is also looking to raise equity through High Net Worth individuals and Institutional Investors to fund some aspects of the Flight Test Programme."
Have a crowdfunding offering you'd like to share? Submit an offering for consideration using our Submit a Tip form and we may share it on our site!