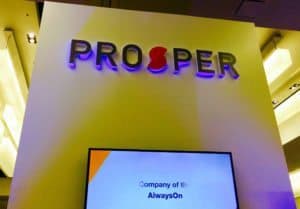 Marketplace lending platform Prosper filed their 10-Q this past week reporting on platform operations. As one would expect, operations took a dip in Q2 posting a $35.6 million loss for the quarter.  In the same quarter of 2015, Prosper lost $6.2 million.
In the three months ended June 30th, Prosper facilitated $445 million in Borrower Loan originations, of which $391 million were funded through their Whole Loan Channel, representing 88% of the total Borrower Loans originated through their platform. For the 6 months ended June 20th, Prosper facilitated $1.4 billion in Borrower Loan originations, of which $1.3 billion were via the Whole Loan Channel, representing 92% of the total Borrower Loans originated.  Since the platform launch, Prosper has facilitated $7.6 billion in originations. Slowing operations were blamed on "uncertainties and negative trends. real or perceived."
Transactions fees thus took a hit during Q2 and Prosper expects this to continue during Q3.
Prosper also did a bit of restructuring during the quarter which drove expenses higher ($14.1 million). In May, Prosper adopted a restructuring plan that streamlined operations. This included closing their Salt Lake City facility and terminating 167 employees across all locations.
Non-recurring expenses are predicted to occur in Q3 as well indicating Prosper is still trimming operations. Restructuring is expected to be fully completed by Q3.
Prosper had cash and cash equivalents of $28.8 million as of June 30, 2016.
Prosper, along with other online lenders, have been embroiled in a rocky year. Many of the challenges may be attributed to soft economic growth and an increase in perceived risk following the departure of the Lending Club founder in May of this year.  It was recently leaked that Prosper had signed a significant agreement to sell up to $5 billion in loans – a move that should help the marketplace lender.