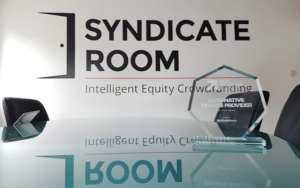 SyndicateRoom is reporting that portfolio growth from 2014 to 2015 grew at 135% as of May 2016  – not including possible SEIS or EIS benefits that can improve returns dramatically. SyndicateRoom's reveal comes just as Seedrs shared their internal rate of return (IRR) for their portfolio of issuers during the past several years.
SyndicateRoom has raised over £58 million since platform launch. The investment crowdfunding platform always pairs professional investors with the "crowd". They pride themselves on offering the same investment terms for both small and large investors. Similar to Seedrs, SyndicateRoom uses a Nominee structure too.
It is important for investors to have an understanding of how their investments are performing – inevitably by some sort of exit event such as an acquisition by another company or another liquidity opportunity.