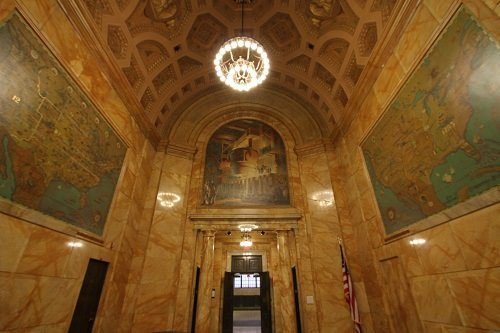 Every now and then the Federal Reserve kicks out some interesting research regarding Fintech and alternative finance. During the waning days of summer of 2015, the Federal Reserve of Cleveland published a report on online lending entitled; "Alternative Lending Through the Eyes of Mom & Pop Small Business Owners: Findings from Online Focus Groups".
Authors Barbara Lipman & Ann Marie Wiersch established an objective of gauging small business owner's perception of the relatively recent phenomena of online lending.  For their purposes they defined a small company as having 20 or fewer employees generating less than $2 million in annual revenues. They surveyed a total of 44 owners in two separate online focus groups. While not a large survey their findings are interesting none the less.
Small businesses tend to be a target category for many online lenders. Typically ignored by banks as too risky and too costly, small businesses can fall through the funding gap.  Unable to gain access to sufficient growth capital, at a decent cost, they struggle to finance growth and hence the opportunity for online lenders.  The key findings of the research can be distilled as follows:
Participants did not necessarily view banks as a "likely credit source" and were in fact skeptical of banks willingness to loan to a business their size
Alternative lending was not necessarily viewed as a separate category – just another online offering that included more traditional types of finance
Respondents were concerned about data security and privacy in using online lending. Although once they had visited a site this concern was mitigated
Small business borrowers find it difficult to compare credit products
Virtually all wanted clarity in pricing – especially in APRs plus straightforward fees and penalties
This report is a must-read for online lending firms.  It highlights both challenges and opportunities. There should be an industry push for transparent pricing using an APR as there are some services that do not price based on risk and that is wrong. There is also a concern of "stacking" from the industry side – a valid topic that demands more discussion. Stacking is when a borrower accesses credit from multiple platforms increasing the risk of default. Online lenders must address this challenge. On a positive note, the survey group responded quite positively once they were introduced to these services after "unfavorable initial impressions." Online lenders still have much work to do in getting the message out.
Lipman and Perceptions correctly state that perception of online lending will continue to evolve. They also note that online lending is still gaining traction. These are early years.
"With greater market penetration will come greater experience among borrowers with online credit products. This experience, along with greater competition among lenders, may raise expectations among prospec­tive borrowers about the features of products that are offered and how well the terms of these products are disclosed. Further study on borrowers' comprehension of credit products – both new and existing – and research to track changes in their attitudes and expectations will be important to understanding the online alternative lending industry going forward."
Read the full report below.

[scribd id=325035913 key=key-gPUgPlWEkO8pABoenubu mode=scroll]

Sponsored Links by DQ Promote