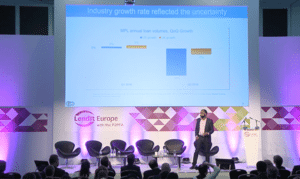 Earlier this week, CEO of peer-to-peer lending platform Zopa Jaidev Janardana took to the stage of the marketplace lending conference, LendIt Europe, to share details about the industry's growth and development over the past year. During his keynote speech, "2016: Growing Up," Janardana noted despite the fact that this year has been an unpredictable year, Zopa's performance has grown and become profitable:
"At the beginning, we said these are uncertain times, let's bring forward our plans for breakeven at the backend of 2017 to now. I'm proud to say that we were profitable in September and we'll be profitable moving forward. That's a big change for us in terms of proving scalability."
Also during his presentation, Janardana stated he believes the industry is moving forward and is looking to optimize for profitability. He notably advised platforms to not worry about origination numbers and not try to inflate originations. To hear Janardana's speech, see the video below.