Peer-to-peer lending platform Funding Circle announced on Monday it is making changes to its interest rates. The lender stated that it regularly reviews the rates and takes into account various factors, which includes macroeconomics trends. It was revealed:
"At Funding Circle, our aim is for investors to be able to earn attractive returns that reflect the level of risk involved when lending to businesses. As part of this commitment, we regularly review our rates, taking a number of factors into account including macroeconomic trends, expected bad debt rates and wider competition in the market. Over the last six years you have helped over 17,000 small businesses access finance. This has provided us with more credit performance data, allowing us to make even more accurate pricing decisions. Following our recent review, we wanted to let you know about some upcoming changes to the fixed interest rates on the Funding Circle marketplace."
The lender stated that the new rates will go into effect on November 7th, but will not affect any loan parts users currently hold and will also not apply to property loans:
"Taking into account the rate changes across all risk bands, and the proportion of loans we expect to list in each risk band, we expect the estimated return for investors with a diversified portfolio, after fees and bad debt, to be approximately 7.0%."
Funding Circle shared it will begin to list small business loans at the gross interest rates, which are shown below. The rates are shown before fees and bad debts.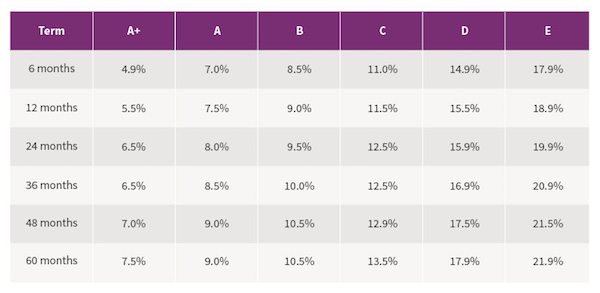 The lender also revealed the how the new rates compare to its current rates in the table below.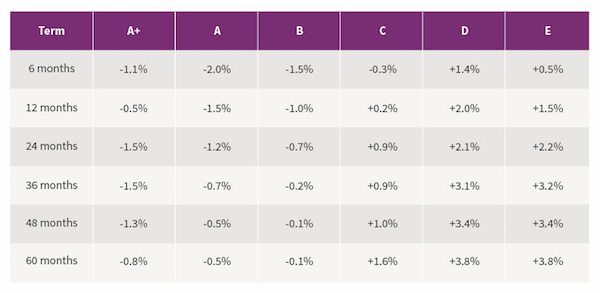 Funding Circle then noted why the interest rates are ultimately changing:
"The new rates ensure we can continue to compete in an increasingly competitive market for lower-risk borrowers. In addition, increasing the rates for some of our higher-risk bands will increase the loss coverage on those risk bands. The loss coverage is the number of times the estimated bad debt for that risk band would need to increase by, before it begins to affect the initial amount invested by investors. Loss coverage is important to consider when thinking about what might happen in an economic downturn. The loss coverage for loans across all risk bands under the new rates will be 4.0x. Our latest stress tests estimate that in a downturn similar to the one experienced in 2008, bad debt for small business loans could increase by 2.0x."
In regards to what the interest rates changes mean for overall returns, Funding Circle added:
"We anticipate that returns after fees and bad debt, but before tax, for investors with a well-diversified portfolio will not be significantly impacted by the new rates. There will be no change to our estimated bad debt rates due to this change. Looking at the proportion of loans we expect to list in each risk band after the new rates are introduced, we estimate that the annual return for investors across these loans, after fees and bad debt, will be approximately 7.0%."
Sponsored