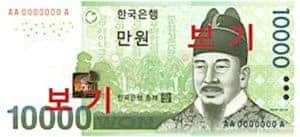 The Financial Services Commission (FSC) of Korea has clamped down on peer to peer lending.  According to a report in Korea Joongang Daily, the Commission has enacted harsh rules that limit the amount an investor may commit to peer to peer lender in a given year to just 10 million won (about USD $8733).  The severe limitation has angered the emerging peer to peer lending industry that has grown rapidly in just a few years.  The regulators said the action was taken to protect investors, apparently pointing to the inappropriate use of funds by Lending Club earlier this year.
Lee Seung-haeng, head of the Korea P2P Finance Association and CEO of Midrate, a P2P lender, stated;
"For many companies, investors who put in more than 10 million won make up more than 60% of total investment. This means that clients who invested more than 10 million won are the main customer base for the business. If the government caps the maximum investment to 10 million won, the companies are forced to shell out more money for marketing to lure more customers."
Tae-young Yang, CEO of Tera Funding – a real estate P2P lender, told Crowdfund Insider;
"Current guidelines heavily restrict the investment activities conducted by individuals. This infringes upon an individuals' freedom to invest in diverse financial products. Furthermore, it will slow down the expanding P2P Lending Market's rapid growth and thus set back the technical progress made in the P2P lending sector while narrowing the options for borrowers to take advantage of faster loans with lower interest rates."
Tera Funding and the Korea P2P Finance Association are currently working to change the guidelines while fulfilling FSC's interest in protecting the investors through:
Sharing of borrowers' details among its members via Credit Checking system to prevent loan frauds
Active participation in finalizing P2P/Crowdfunding laws and regulations
Setting a interest rate limit at 19.9% which is 8% lower than current loan regulation which P2P lenders are bound to follow
Setting Investors' escrow accounts for all members to protect Investors' capital safely
Transparent and clear disclosure on every product and company's profiles from P2PFA members
Create a unified structures among its members within next three months
Today there are over 50 P2P lending platforms operating in Korea with many having launched during the past year.