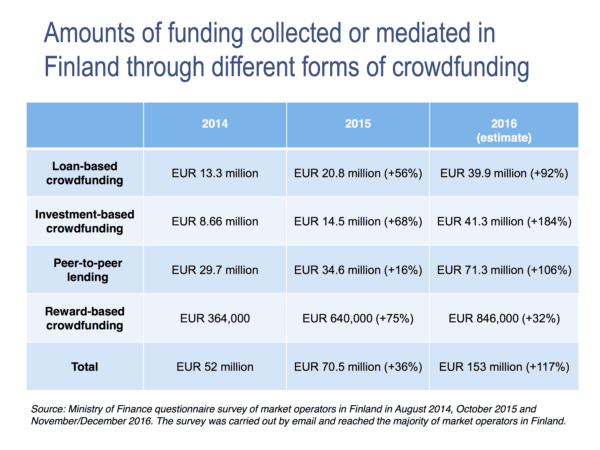 ---
Finland's Ministry of Finance has published an update on the nascent Finish crowdfunding industry.  According to their report,  Finland's crowdfunding market more than doubled in size during 2016.
The Finish government estimates the total amount raised during 2016 stands at €153 million in contrast to the year prior (€70.5 million) the amount has more than doubled. Two years ago the market stood at €52 million
The government says the growth in investment-based and loan-based crowdfunding, which are important forms of funding for businesses, has been particularly rapid.
The Finnish crowdfunding market in 2016 is summarised as follows:
Investment-based crowdfunding: € 41.3 million (year-on-year increase of 184%)
Loan-based crowdfunding for businesses: € 39.9 million (year-on-year increase of 92%)
Peer-to-peer lending between private individuals: € 71.3 million (year-on-year increase of 106%)
Reward-based crowdfunding: € 846,000 (year-on-year increase of 32%).
The Ministry of Finance has completed a survey on crowdfunding annually among the market operators since 2014. Officials said the survey has reached the majority of crowdfunding intermediaries operating in the Finnish market.
Growth expected to continue
The Ministry of Finance predicted the crowdfunding market would grow further. Factors contributing to this growth include the new Crowdfunding Act, which clarifies the rights and obligations of both market operators and investors. The Act places loan-based and investment-based crowdfunding within the sphere of regulated financial markets.

Factors contributing to this growth include the new Crowdfunding Act, which clarifies the rights and obligations of both market operators and investors.

The Act places loan-based and investment-based crowdfunding within the realm of regulated financial markets.

Sponsored Links by DQ Promote