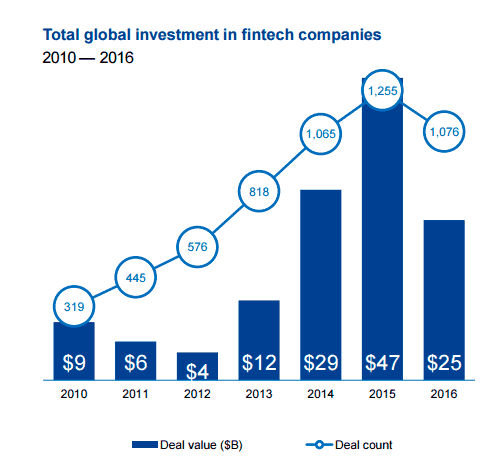 KPMG published their quarterly Fintech report last week. The Pulse of Fintech Q4 2016, shares both quarterly and full year numbers for global Fintech investment.
According to the report, investments and mergers value dropped from $46.7 billion in 2015 to $24.7 billion in 2016. KPMG called the total for 2016 still "historically robust."
Overall, global M&A in Fintech dropped from $34.1 billion in 2015 to just $11.15 billion in 2016. Venture capital investments totaled $13.6 billion for 840 deals – an increase of 7% versus year prior.
Corporate venture capital increased their activity representing the strategic importance for established firms to enter the Fintech space. Deal volume for corporates his 145 for $8.6 billion.
Looing at the US specifically, KPMG called 2016 a "reset" as deal volume slumped.  In the Americas, the amount invested in Fintech dropped by a whopping 50% but Canada bucked the trend as VC activity actually increased up North.
Europe slumped too. The continent went from $10.9 billion in 2015 to just $2.2 billion of M&A and investment into Fintech.
The shining star in the world? Asia, once again.
Asia saw total investment increase slightly from 2015 to $8.5 billion but venture capital funding rocketed – hitting new highs. Asia recorded $7.1 billion in venture funding during 2016. KPMG called the Fintech activity "still healthy."
Looking forward to 2017, KPMG sees Europe's commitment to open banking to help fuel activity. Blockchain has reached the "tipping point" too.  Insurtech, DLT, payments and global giants like Alibaba will continue to help boost Fintech growth while focusing attention on sector activity.
See the report embedded below.
[scribd id=340289184 key=key-HUHee3OwfaVxOJHaHxYk mode=scroll]