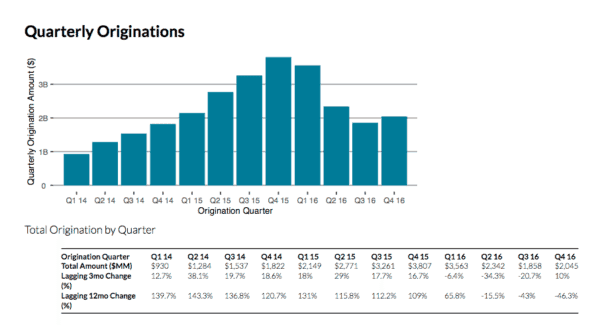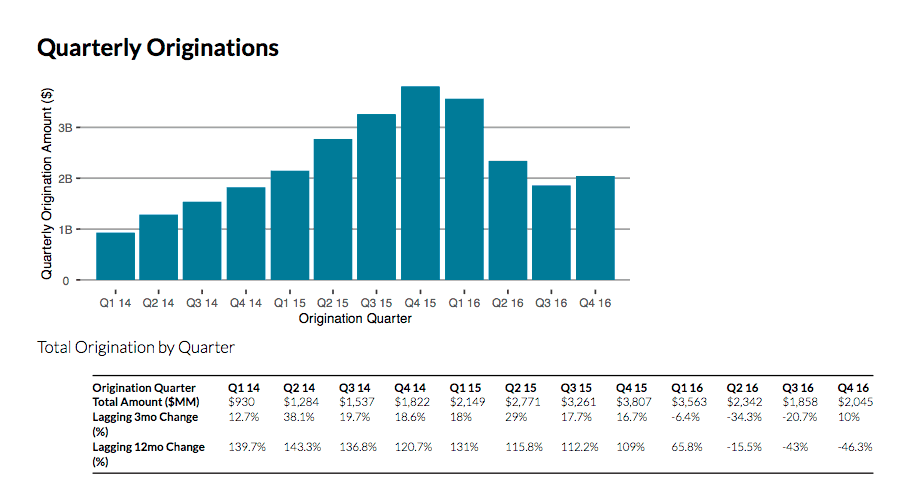 Orchard's platform published their quarterly report a few days back covering Q4 of 2016. According to Orchard, loan volume increased in Q4 reversing a trend that began in Q4 of 2015.  While originations ticked up in Q4 versus Q3, they are still nowhere close to where they were back in Q4 of 2015 where they hit an all-time high of more than $3.8 billion.
According to Orchard:
Loan originations totaled $2.045 billion in Q4. In Q3 of 2016, loan originations came in at $1.85 billion

2014 and 2015 vintage charge-offs have increased more steeply than in prior years.

Borrower rates continued their decline in Q4, falling another 42bps from Q3 levels, largely due to a sharply falling share of subprime originations in the second half of 2016.

The complete report may be downloaded here after you hand over some contact information. Orchard receives its data directly from the platforms so you know it is good. The entire online lending industry endured a bit of a crisis last year as questions arose regarding the operations of Lending Club and funding dried up. There have been recent announcements indicating that both previous and new sources of capital are moving back into the online / marketplace lending sector.  With LendIt taking place next week, expect a barrage of reports about partnerships and funding to come out.

Sponsored Links by DQ Promote