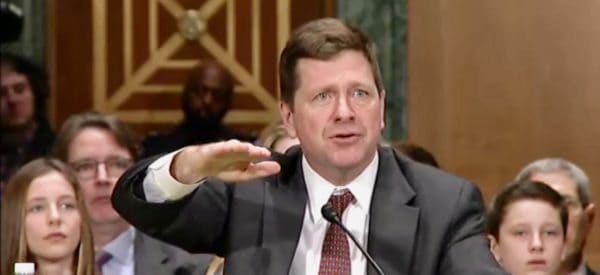 ---
The Senate Banking Committee, Chaired by Senator Mike Crapo, is set to hold the nomination hearing this morning regarding the appointment of Jay Clayton as SEC Chair.  The hearing will be live-streamed on the Committee's website beginning at 930AM.
Clayton, a longtime corporate attorney, is a graduate of U Penn (both undergrad and JD) and a partner at the law firm of Sullivan and Cromwell based in New York City.
In prepared remarks, embedded below, Clayton expressed his intentions if approved by the Committee:
Well-functioning capital markets are important to every American;
All Americans should have the opportunity to participate in, and benefit from, our capital markets on a fair basis, including being provided accurate information about what they are buying when they invest; and
There is zero room for bad actors in our capital markets.
Clayton said he was "100% committed" to uncovering any shady practices in the US financial system.
Representatives Hensarling and Huizenga, important members of the House Financial Services Committee, released a statement in support of the Clayton nomination:
"Entrepreneurship is at a generational low and sadly the SEC did essentially nothing during the Obama years to help small business entrepreneurs.  The only real success was the bipartisan JOBS Act, which originated in Congress and which, unfortunately, the SEC has been slow to implement.  Despite an 82 percent increase in its budget over the past decade, the SEC has consistently failed to help small businesses access capital so they can innovate, grow and hire more American workers.  We are confident that Jay Clayton will lead the SEC in a better direction and clear away regulatory roadblocks that hinder small businesses and entrepreneurs from accessing the capital they need."
If approved, Clayton will join the powerful regulatory agency at a unique time in securities law as the financial system is struggling with the impact of unparalleled amounts of excessive regulation. Clayton will be challenged to address the multitude of problems engendered by myopic rulemaking that has undermined the US economy.  Clayton, a relatively unknown persona inside the beltway, is expected to be approved by the Senate Committee.

[scribd id=342812501 key=key-fFEUeUB123930ZBHnA2A mode=scroll]

Sponsored Links by DQ Promote