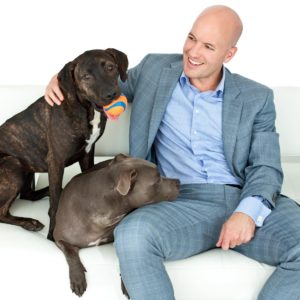 Past generations have had their market opportunities; the Baby Boomers the jump in energy prices during the 1970's and Generation X had the tech boom (and bust) of the 1990's. But Brady Fletcher says the empowerment-driven Millennials haven't had their own spring of market luck.
"Millennials haven't had the benefit of seeing a robust commodity cycle in Canada where previous generations have all made a lot of money," the Vancouver–based managing director of the TSX Venture Exchange told Business In Vancouver.
Fletcher has now set his sights on persuading Millennials to try their hand in the stock market
After joining the stock exchange known for its junior mining companies and colorful past last October, Fletcher set his sights on convincing more millennials to invest.
It might be a task as daunting as building a thermal coal mine in B.C. when prices were still spiralling downward in 2012.
Current market volatility is pushing the majority of millennials away from investing, according to September 2016 survey commissioned by Toronto-Dominion Bank.
The results found 36% of millennial respondents don't know if it's the right time to invest, while 22% say it's "definitely" not the right time. More than one-third (37%) reported that they don't invest at all.
But for those who do, they're focused not on mining stocks or chemical companies.
A March 2017 survey commissioned by the Responsible Investment Association found 58% of millennials want to put their money into companies that solve social or environmental problems. That's more than double the rate of baby boomers (25%) and significantly larger than Gen Xers (35%).
"You look at this generation and there is a very high focus on the social good and the social impact. But I think the mining industry has not done a good enough job discussing [its] stewardship for the environment," added Fletcher.
The new TSXV boss says the stock exchange needs to go beyond a more aggressive social media strategy to attract interest for young people. Instead, it's looking at ways of becoming more innovative in its approach to technology.

The TSXV has partnered with Voleo, a Vancouver-based fintech that has developed a mobile trading platform that lets users collaborate in online investment clubs.

The platform is being used as part of a university outreach initiative to build investment clubs and get students to make peer-to-peer recommendations.

"We can't just rely on standard tools that are in front of us. We need to figure it out, we need to adapt, and we need to measure what's working."

Fletcher added that the allure of investing in tech companies or life sciences focused on the emerging cannabis industry could also prove fruitful for younger generations.

Fintech TIO Networks, which went public on the TSXV more than a decade ago, never graduated to the TSX. Instead, it was acquired last month by PayPal Holdings Inc. (Nasdaq:PYPL) for $304 million.

It's the type of exit Fletcher said could bring more positive attention to the TSX-V.

Chris Nicola, chief technology officer and co-founder at online investment firm WealthBar Financial Services Inc., said about one-third of its clients are millennials.

Despite the advances in technology and investment WealthBar is pursuing, Nicola said the biggest challenges reaching that demographic is that they're still decades away from retiring. Investment simply isn't top of mind for them, he said.

"They've got other primary goals in mind. They have lower disposable income available for savings than previous generations and they have higher student debt. A lot of them are dealing with those problems first and foremost."

Sponsored Links by DQ Promote