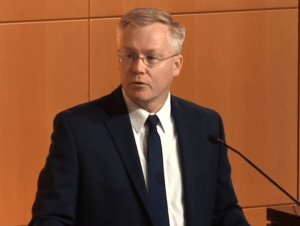 The Securities and Exchange Commission has scheduled its Equity Market Structure Advisory Committee for April 5 beginning at 9:30 AM ET.  
The meeting will include updates from the four subcommittees, including presentations from the Regulation NMS subcommittee on Rule 611 and the Trading Venues Regulation subcommittee on SRO rule-based limitations of liability and regulatory centralization.
The meeting will be held at the SEC's headquarters at 100 F Street, N.E., Washington, D.C., and is open to the public.  It also will be webcast live on the SEC's website.
The agenda is published below.
SEC Equity Market Structure Advisory Committee
9:30 a.m.         Welcoming Remarks by Acting SEC Chair Piwowar, Commissioner Stein, and Acting Director of Trading and Markets, Heather Seidel
10:00 a.m.       Regulation NMS Subcommittee Presentation and Preliminary Recommendations Relating to Rule 611
10:10 a.m.       Discussion of Rule 611 and Preliminary Recommendations
 Jeff Brown, SVP, Legislative & Regulatory Affairs, Charles Schwab

Charles Jones, Professor of Finance & Economics, Columbia Business School

Adam Nunes, Head of Business Development, Hudson River Trading

Paul Russo, Global Co-COO – Equities, Goldman Sachs

Thomas Wittman, EVP for Global Equities & CEO, NASDAQ/PHLX/ISE/BX Exchanges
11:30 a.m.       Lunch
12:30 p.m.       Trading Venues Regulation Subcommittee Presentation on Regulatory Centralization and Preliminary Recommendations Relating to SRO Rule-Based Limitations of Liability
12:40 p.m.       Discussion of Regulatory Centralization and Preliminary Recommendations
Anthony Albanese, Chief Regulatory Officer, NYSE

 Lev Bagramian, Senior Securities Policy Advisor, Better Markets, Inc.

 Thomas Gira, EVP, Market Regulation & Transparency Services, FINRA

John Kerin, CEO & President, Chicago Stock Exchange

 Brett Redfearn, Global Head of Equity Market Structure Strategy, JP Morgan Securities
2:00 p.m.         Break

2:15 p.m.         Market Quality Subcommittee Status Report to the Committee

2:45 p.m.         Customer Issues Subcommittee Status Report to the Committee

3:15 p.m.         Discussion of Next Steps / Adjournment 

Sponsored Links by DQ Promote