With nearly two weeks until the Gloomhaven second printing Kickstarter campaign is set to close, Isaac Childres' latest board game project has surpassed $2 million thanks to more than 22,000 backers. Gloomhaven is described as a cooperative card-drive game of combat of 1-4 players. The game's story reads:
"It's a grim but lucrative business being a mercenary out on the edge of civilization. You must explore the harsh wilderness and engage in deep tactical combat, where the decisions you make have an impact not only on your own character, but also the world around you."
It was also revealed that each scenario is played out through rounds of combat against fully automated enemies and each round, players will play two cards to determine the order in which they act and what abilities they perform. The cards have two special actions, and on their turn, players can perform the top action of one card and the bottom action of the other. Although there is no dice in the board game, all attacks are modified by a player's attack deck, and over time, the attack deck will change as a player begins to add and remove cards by completing battle goals and leveling up.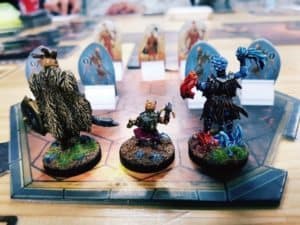 Gloomhaven's second printing board game will be available for backers for $99. Other backer rewards include scenario book upgrades, solo scenario book, rule books, and four health/experience dials.
"Through this Kickstarter, you can pledge to receive a copy of the second printing ofGloomhaven, complete with new health and experience trackers and a revised rule book and scenario book. Your game will come with miniatures for all the character classes, but you can also purchase extra sets of miniatures and standees."
The game is scheduled for an August 2017 delivery, and the initiative is set to close May 2nd.
Have a crowdfunding offering you'd like to share? Submit an offering for consideration using our Submit a Tip form and we may share it on our site!